Attending online meetings has become a daily task for most people these days, so it is no surprise that more and more job recruiters opt to conduct interviews remotely. It's cheap, it's easy, and you get to wear pajama pants to work. You must use a suitable podcasting service if your interviews come off as professionally as possible.
You want something that can record the interview, allow for post-production editing, and provide high video and audio quality. It's much easier to conduct successful interviews when you're not spending half the time trying to figure out why your microphone isn't working, or you hear static in your recordings. Let's look at some of our top picks for virtual hiring tools and see what some of their features can do for you!
Rumble Studio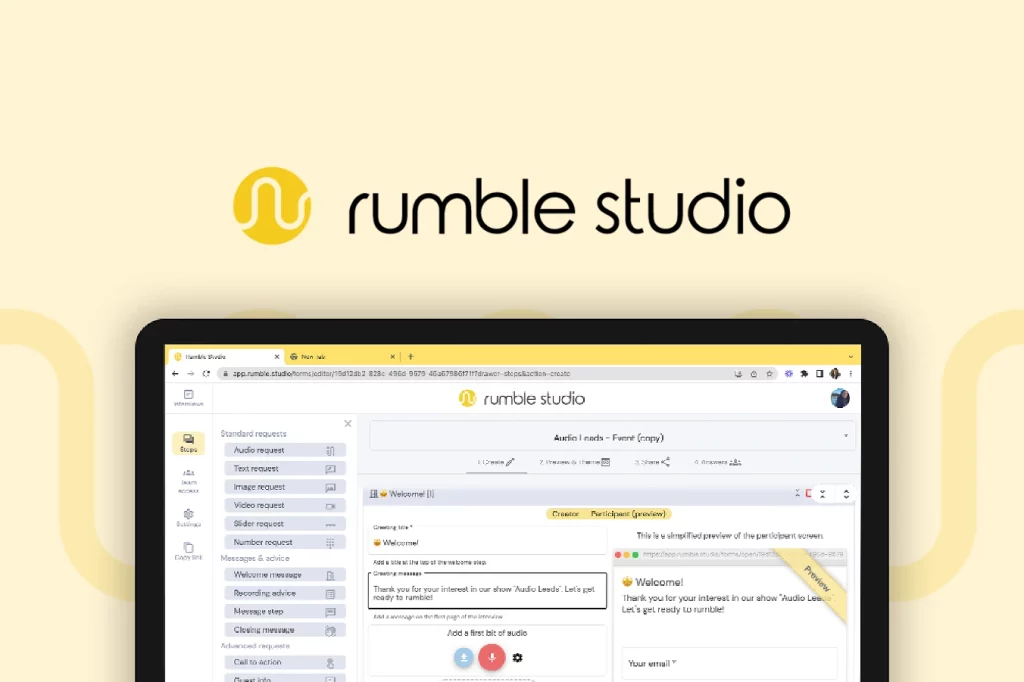 We kick things off with what we consider the best of the best. Rumble Studios will help you with that and more when it comes to organizing and preparing interviews. This powerful tool allows you to conduct and record interviews simultaneously, and it also allows you to post questions on the main dashboard to which users can directly respond.
One of the most helpful features of this tool is that it transcribes any response users may leave to your question, which allows you to edit the response in your interview recording directly. Rumble Studio's built-in mixing tool will enable you to edit, cut, and combine clips from various interviews. And finally, this tool also allows you to remove the Rumble Studio logo and add your own for that extra professional touch.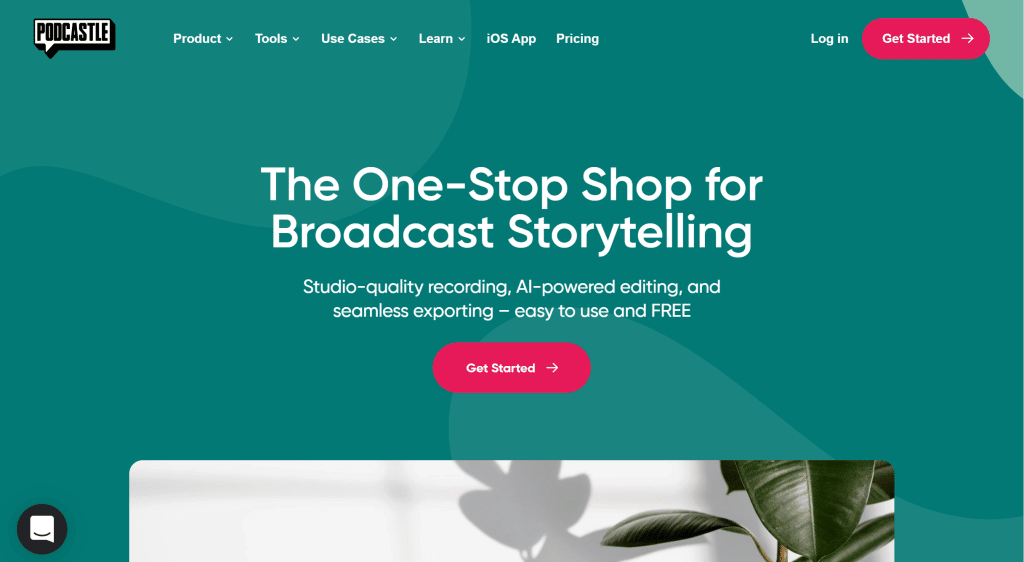 If you prefer something that allows you to edit your clips in greater detail, we recommend Podcastle. This tool will enable you to edit your audio clips by transcribing them into text, after which you can go in and delete any parts that don't work as well as you had hoped.
It also allows you to remove all unnecessary background noises, which makes it unique in this category of tools. This is all done with the "Magic Dust" feature and a single button click. Overall, it's a handy tool if you want to quickly transform any interview recording into something worth listening to more than once. If you're unsure how your voice sounds in audio, Podcastle has an extensive library of AI-powered text-to-speech options, so there is no need to worry!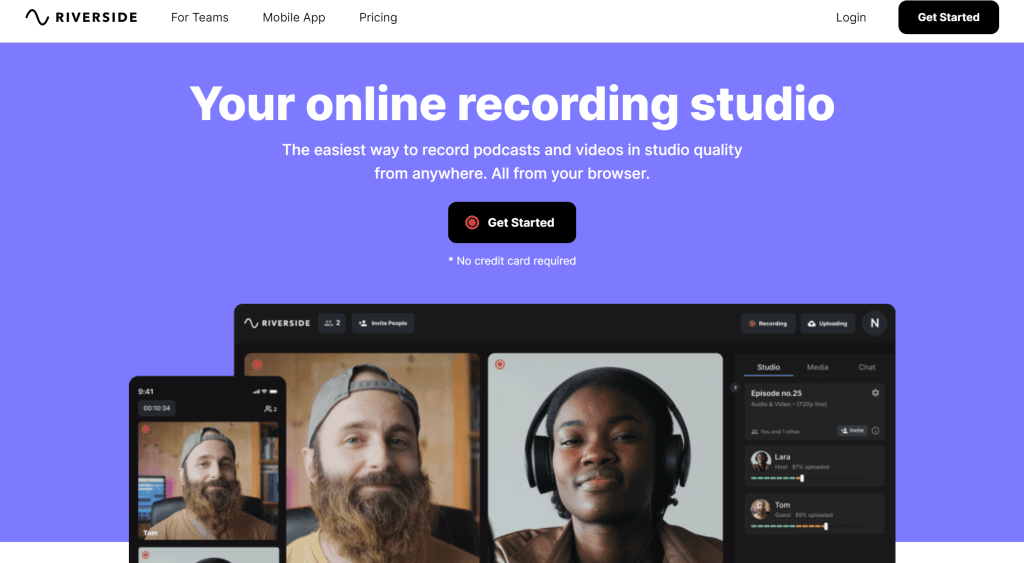 When discussing high-quality podcast and interview tools, we must mention Riverside.fm. This amazingly cheap tool helps you record high-quality audio that you can edit later and record 4K videos. The main thing you need for this to work is a stable internet connection. If you're considering conducting interviews from any place you'd like, don't worry; Riverside.fm has you covered there.
Currently, you can download the Riverside.fm iOS app and host interviews virtually from anywhere with a stable connection. It's straightforward to use, as you only need to create a new podcast, check your audio and video quality, pick which features you want to apply (like live call-in, recording video and/or audio tracks), and share the link to your interview with your participant(s)!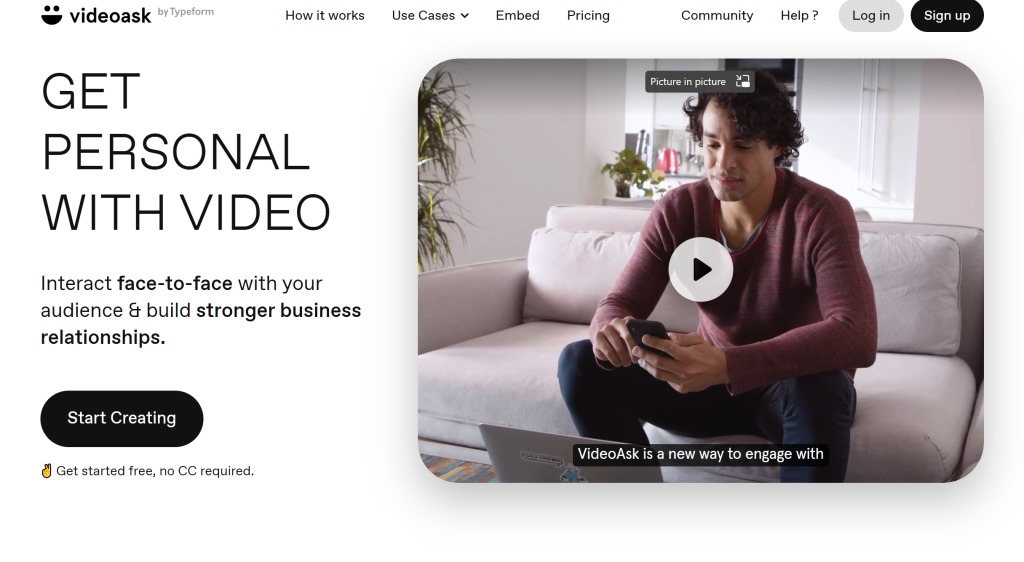 If you're looking for something quick and easy to use, try out VideoAsk. This tool works on a pretty simple principle. You film yourself asking questions. You then send a link to your video, to which interviewees can respond directly with a video, audio clip, or text message. The best part is that the interviewees don't need the app installed to respond to you.
Once you start using it, you will soon realize why it's so much better to use a separate app for conducting interviews, as it doesn't require anyone to follow or add you, so it's completely hassle-free. All you need to worry about is preparing the right questions, and don't forget to put on a smile to loosen up the atmosphere!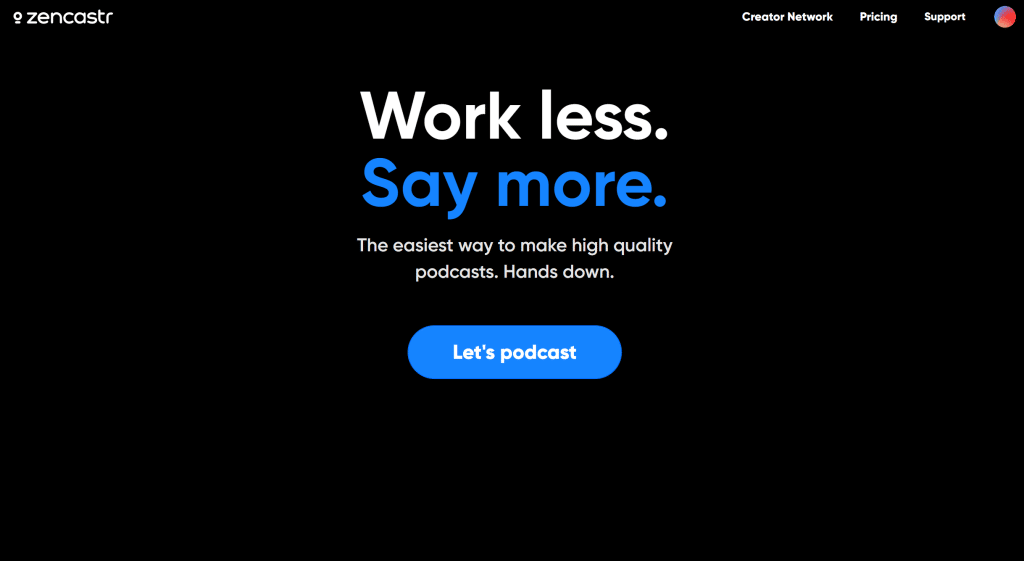 Finally, let's take a look at Zencastr. This tool offers some pretty standard options, like live sound and video monitoring and automatic post-production. All you need to do is log into your dashboard, create a new episode, choose what you want the tool to record, and send invites via email. Once the session is done, the device starts uploading the recording, and once it's done uploading, you can safely exit the tab. If you're hosting something like a podcast through Zencastr, you can add custom audio clips, like jingles and ads, during the session.
Conclusion
Whether you're looking for an excellent audio editor or want to conduct high-quality video and audio interviews, using tools like Rumble Studio will significantly reduce your post-production time. Avoid making the interviewing process even more stressful by using high-quality tools that make the overall interaction much more comfortable.