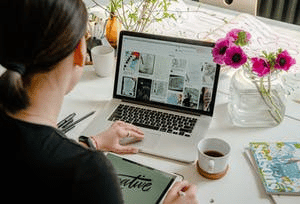 As a college or university student, an inevitable aspect of your student life is writing essays, mainly for academic purposes. This is why essay writing might seem unavoidable if you have not honed your writing skills or if you are an international student with little knowledge of English.  
So to go through this phase, you can get in touch with online essay writing services by CustomWritings or learn from academic experts how to improve your writing skills and brush up professionally with a few online writing tools. 
There are many online writing tools; while some are paid, others are free, and many free ones have a paid version for you to access advanced features. Here are the top five online writing tools you need as a writer. 
Google Docs
It is a free online writing tool that allows you to collaborate with other writers or editors. Once you enable edit access, you can work with other people on the same document at the same or different times anywhere.   
And collaboration is not its only feature. If you are used to working with Microsoft Word, Google Docs is like an upgrade to the writing tool. It has nearly all features the Microsoft Word has plus newer features. 
Another exciting feature of Google Docs is it's automatic save property. As you are working, as long as you are online, it saves every word you write, and the file is automatically saved to your drive. So, you do not have to worry about losing your document as long as you are online.   
In addition, you do not have to worry about converting the file to another format with an external tool; you can simply download it in MS Word or PDF format. 
Grammarly
No matter how fluent you are in your writing or speech, you will still find the Grammarly app helpful when writing a piece. Grammarly is an online tool that checks all writing errors in your article, including grammatical, punctuation, and spelling. 
When editing, it shows you what is wrong, suggests a better word or phrase, and gives you more information about what you did wrong. 
And it does not only edit and proofread your article but also checks to improve the clarity and tone to suit your audience. So, you can customize the article's tone, writing style, language (British or American), and dictionary. 
Another vital benefit of Grammarly is that it checks the readability and plagiarism score of the article, so it is like an encompassing writing tool. 
With Grammarly, you can ensure your content is grammatically correct, unique, precise, and readable. So no matter your level of English, you can note typos and other mistakes with Grammarly. 
You can get a lot of value with the free version, but if you want access to the unique features and a more well-structured article, you can try out the premium version.  
Hemingway Editor 
The Hemingway Editor grades your writing based on what class of students can read it (Grade 1 to 10). Whether a beginner or a professional writer, you can use the Hemingway Editor to ensure your words are simple, engaging, and concise. 
It highlights words with different colors for the various writing problems; words to replace with simpler alternatives, sentences to break down because they are hard to read, changing passive voice to active, and meeting the Google of fewer adverbs. 
Even though the Grammarly writing tool shows the readability score, it does not show details like the Hemingway Editor, so if the readability score is higher than desired, you can paste it into the Hemingway Editor to know what to correct. 
You can access the Hemingway Editor free online, but if you want to download the desktop version on your Mac or Windows PC, it costs a one-time payment of $19.99.
AnswerThePublic
Writing well requires in-depth research, and after searching online and on platforms like Quora, Reddit, and the like, you might need to get more specific questions. Here is where the AnswerThePublic website comes in. 
Type in the topic you are writing on in the search box, which will bring you the many questions that have been asked. The different categories of questions include the How, Why, where, when, what, can, will, are, prepositions, and other related questions. 
This writing tool targets what goes in line with your content rather than just general questions around it. 
The tool has a free version that only allows you to ask a limited number of daily questions. Still, there are paid versions with different options and features, including unlimited search and data comparison. 
Plagiarism Checker
As a student, you are usually tempted to copy and paste articles just to finish on time. While researching information, you may not be aware that you have copied word-for-word from an original author.  
Plagiarism is one of the greatest sins a writer can commit, and it is highly frowned upon in college essays with dire consequences for the action, including being expelled or failing the course. 
So, why risk this when you can simply check the article with a free plagiarism checker (1text.com). You can simply copy and paste your articles on the site and see how unique the piece is. 
Even after checking with Grammarly, you can still check with this to ensure you are not missing anything. It has a free version that allows you to check any number of words, only that you might see many ads. You can also go for the paid version, which provides grammar checks. 
Other Writing Tools
Even though these are the top essential writing tools for students, you can go beyond depending on the type of article or essay you are writing.
There are tools like 3D that help your storytelling abilities, and SEO tools like Yoast help your article optimization if you publish the article online.
And there are other tools you do not use to write, but they help you write efficiently. An example of an app that helps you stay focused while writing is Freedom, and another that helps you struggle with distractions is Ommwriter. Ommwriter even has features that allow you to play songs while you write. 
We cannot exhaust the many tools that help your writing skills and abilities, but once you know what you are looking to get, you can effortlessly search for a suitable app. 
Conclusion
Since avoiding essay writing is impossible, you might as well use the opportunity to improve your writing, which might even help you later in your career. And the available online tools have made it easier to improve at writing, take advantage of them and improve.