The business social media landscape has changed dramatically in the last two years. It's not surprising that Smart Insights discovered a 43 percent increase in the amount of time people spend on social media every day. And it's all because more businesses are embracing some form of remote working.
We have to be aware that social media is used by more than half of the world's population. That's why businesses focus their efforts primarily on social media strategies to get their products and services noticed. As a result, we have listed our favorite social network management tools for connecting all of your accounts.
Businesses must focus on what they require in the social media environment. Determine what matters to the specific group to boost their social ROI. Furthermore, you can rely on social media management tools' power to reach the desired goal.
Social media marketers are responsible for a variety of tasks, some of which are as follows:
Staying on top of marketing trends,
Expanding the brand,
Promoting blog entries,
Optimizing workflows,
Curating material on the go with the opportunity to communicate with their teams
Furthermore, social media managers develop marketing programs. They use automated social media content, engage and support customers using social media engagement tools, and analyze their social media analytics to pivot as required.
1. EngageBay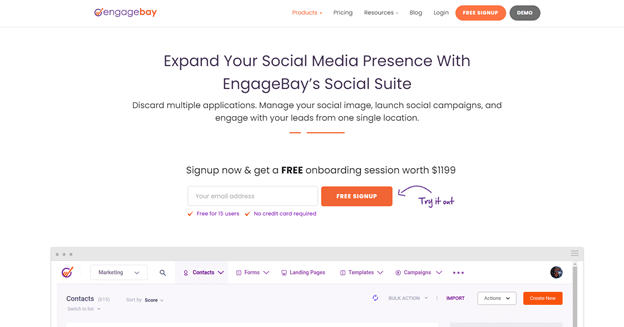 EngageBay is an all-in-one marketing, sales, and customer support software with free integrated CRM. It aims to combine several tools that revolve around customer journey into a single, comprehensive package. 
This includes social media management. EngageBay's 'Social Suite' helps you manage your Facebook, Instagram, Twitter, and LinkedIn accounts from a single window. You can interact with your audience, answer their queries, resolve issues, launch promotions, keep them engaged – and build your presence. 
EngageBay lets you add Streams and manage them. With this, you can track your Twitter mentions and retweets, Facebook posts and tags, and Instagram posts. 
The Scheduler feature allows you to intelligently time your posts and tweets for maximized reach. You can schedule multiple posts across various platforms with ease. What's more, you can automate your customer acquisition process by capturing leads and adding them directly to your CRM database. 
There is an anonymous Instagram story viewer who tries to find everything on your Instagram posts and stories. You can also try to find them and see what your audience is searching for – a process called social listening. All these features come together to help you stay on top of your social presence.
2. Hootsuite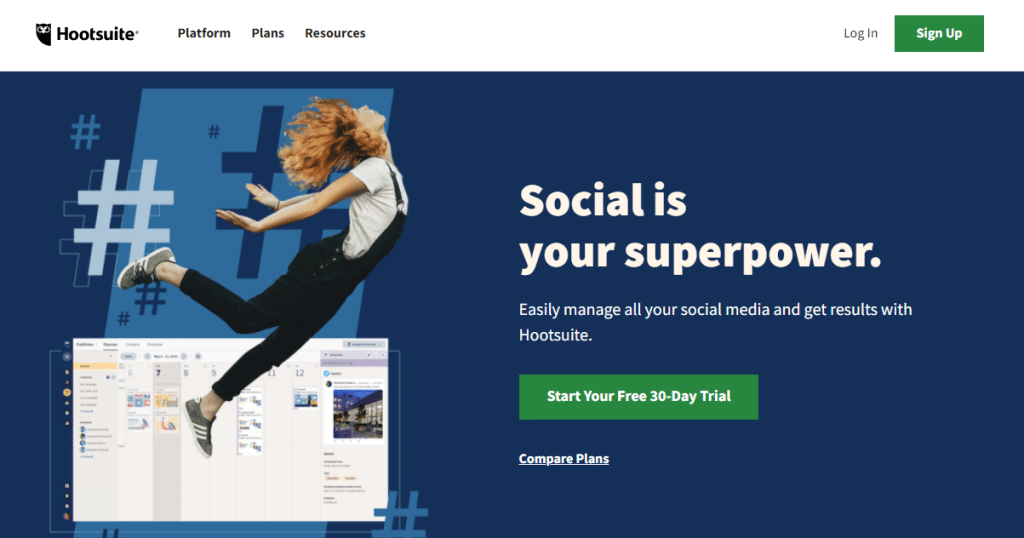 Hootsuite aspires to be a one-stop-shop for social media management across several platforms. As predicted, users may search and filter existing social media for brand mentions, insights, and demographic data.
You may schedule posts from many profiles across several social networking sites using any of Hootsuite's services.
This allows you to guarantee that any marketing initiatives are successfully organized and targeted at the times and locations that you choose. It's especially true when you can tag postings to ensure that they are stored in the right place and used at the right time.
An analytics component also allows you to track and evaluate performance against key performance indicators (KPIs). Because reports are personalized, you can be confident that you only view and read the relevant information. However, this is especially important because Hootsuite was designed for groups rather than individuals.
Asana, Slack, Mailchimp, Trello, and Zendesk are just a few of the connections available, allowing you to work on your social media marketing and communications initiatives productively and efficiently.
3. Hubspot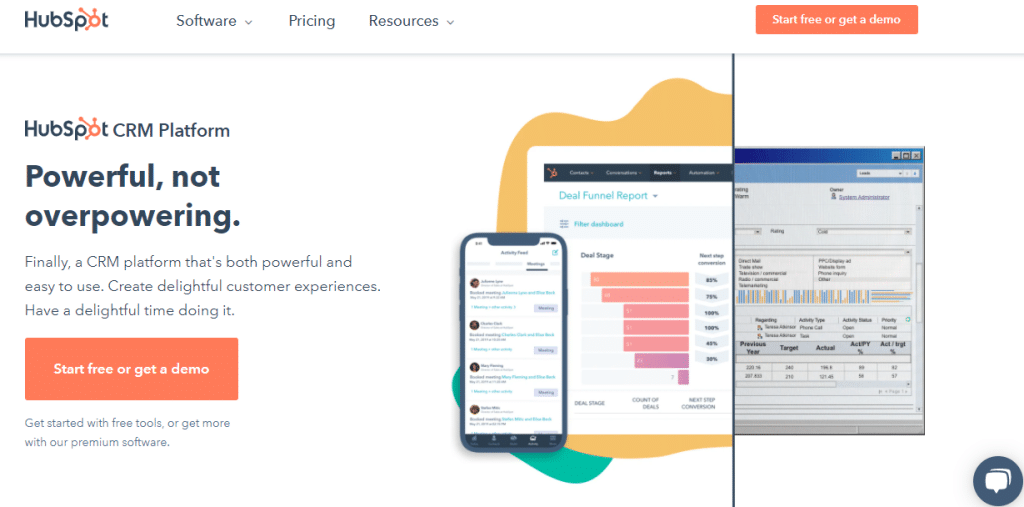 The Hubspot Social Media Software suite is a collection of social media management solutions included in the Marketing Hub. The goal is to save time by prioritizing your most important social interactions across multiple platforms, such as Facebook, Twitter, YouTube, and LinkedIn.
Various management options are available, such as creating and sharing content, tracking mentions, and reporting.
Because these tools are part of the Hubspot Marketing Hub, you can use them with many other targeted marketing solutions. As previously said, this requires monitoring and managing your social media accounts and making sure that the time and effort you invest into them repay.
4. Agorapulse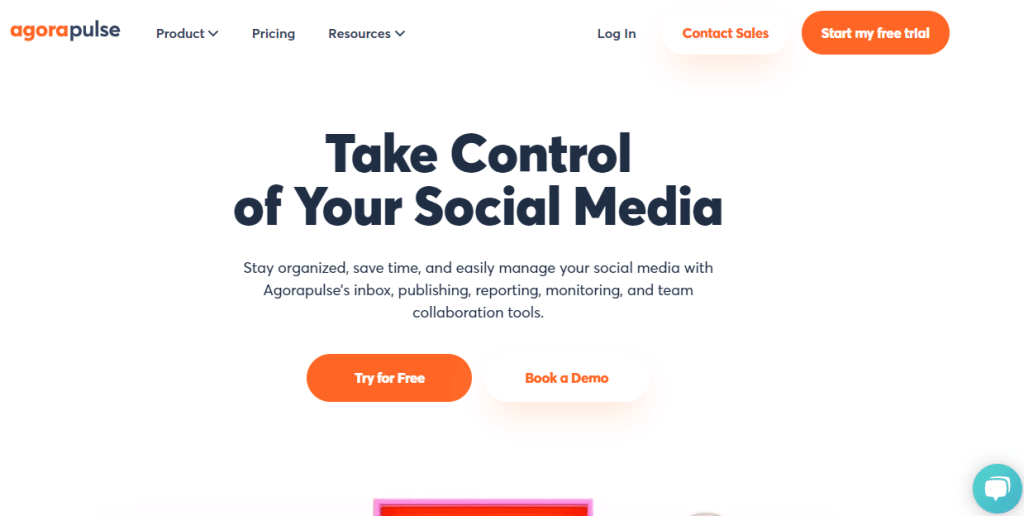 Agorapulse is a no-frills social media management application. It comes with the same scheduling, visual calendar, social inbox, analytics, and team collaboration features as most competitors.
Agorapulse also offers in-depth competitive analysis research. You can also use this application to connect with, listen to, report on, and interact with your social media networks. You may accomplish this by publishing your material to Agorapulse and then letting the program queue and schedule it.
5. Zoho Social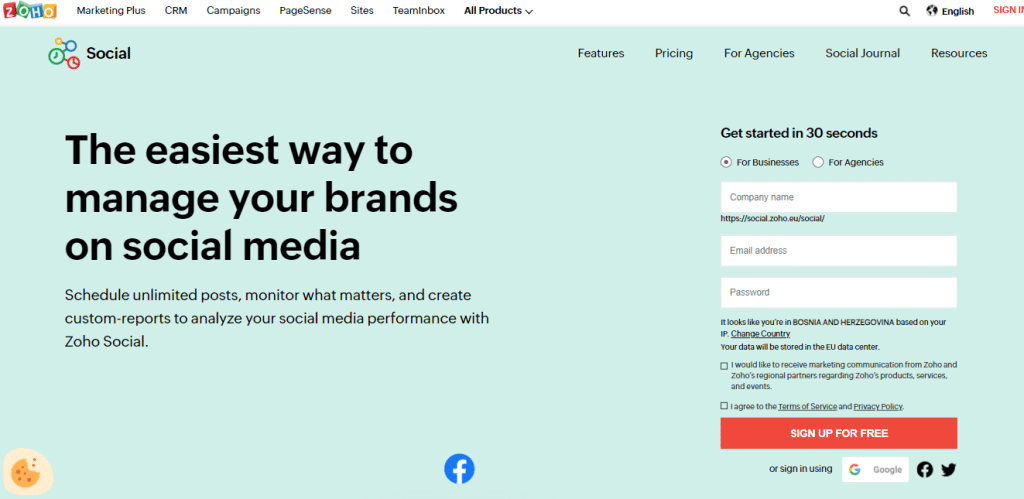 Zoho Social made our list as the best all-in-one tool because of how well its social media management software architecture services integrate with the rest of its CRM services. This tool combines email storage and access, campaign design and tracking, and accounting functions into a single platform.
Zoho also provides comprehensive social media management software with built-in capabilities and the opportunity to purchase extra features/plugins to achieve the full suite of functionality.
6. Buffer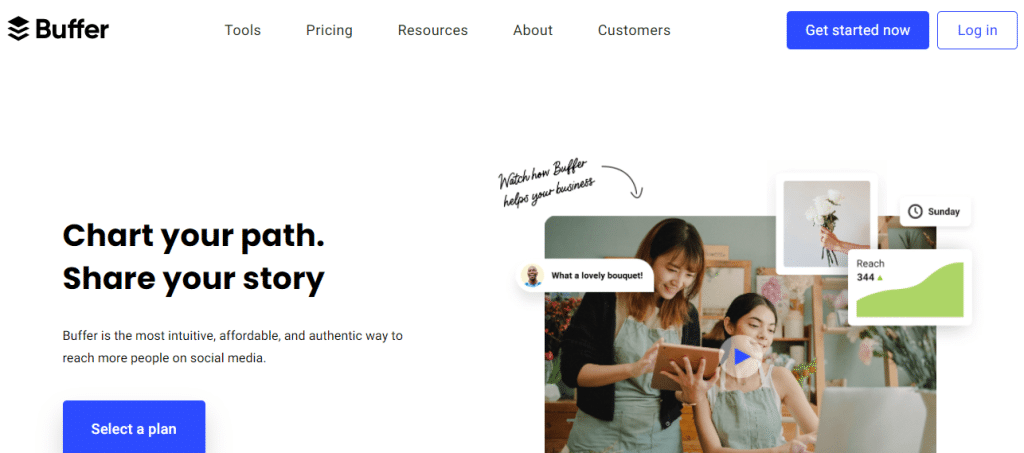 Buffer is a social media management application that makes it simple to post and manage social media material across various platforms.
Although being primarily a scheduling tool, Buffer helps you take advantage of the social network by uploading content at a time when your target audience is most likely to be online. Buffer gives you an option to connect to many social networking sites simultaneously.
The Buffer button on your browser allows you to share items instantly. You can share the link across multiple social networks or add it to the queue with a single click. It also integrates seamlessly with Chrome, WordPress, and other vital programs.
Conclusion
To automate their daily duties and focus on what matters most, an increasing number of organizations are turning to social media management solutions. They'll come in handy if you're running many campaigns simultaneously.
This list of social media management tools will assist you in determining which tool is ideal for managing your online presence.