The Samsung ML-2851ND is a black and white laser printer for business environments. It comes in handy to streamline your work with a compact design, reliable specs, and valuable features. But before using this device, be sure you already have a Samsung ML-2851ND driver.
This workgroup monochrome printer boasts a fast speed for efficient printing, allowing you to focus on other tasks. With a stunning monthly duty cycle of up to 30,000 pages, this is a durable machine for high printing volume. Not to mention it supports generous media capacity for ultimate convenience.  
Samsung ML-2851ND Driver Features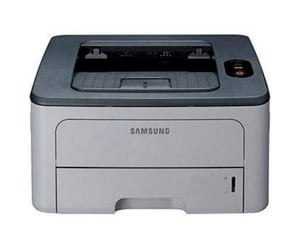 Fast Print Speed
This model is rated at 30 pages per minute for Letter A size and up to 28 pages per minute for A4. This print speed is more than sufficient for handling daily tasks in your office. As a business printer, it should meet a fast pace in your work environment.
Duplex Printing
The ML-2851ND is equipped with a duplexer, which means it supports double-sided printing. This helpful feature comes in handy to promote efficient work, so you don't necessarily need to flip the pages manually.
Large Media Capacity
Most business printers have a large media capacity, and the ML-2851ND is no exception. Designed for moderate to high print volume, this model comes packed with generous media handling, allowing it to load more pages.
But that is not all because it supports a wide range of media, allowing you to print for various purposes, from draft to formal documents, from business contracts to creative projects.
Robust Connectivity
This model relies on a wired connection to support fast and hassle-free printing with fewer connectivity issues. In addition to hi-speed USB 2.0, it supports Ethernet networking for convenient shared printing.
Toner Save Mode
This is one of the best features brought to your table. While most printers share the same problem – high running cost, the ML-2851ND allows you to save toner by simplifying your budget.
Samsung ML-2851ND Driver Specifications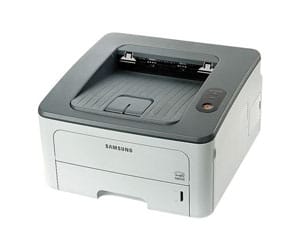 Print Specs
This model delivers a high-quality print result with laser technology combined with 1200 x 1200 dpi print resolution. It promises crisp and sharp black text for your business documents. Black and white printing is made simple with the ML-2851ND.
Media Handling
This printer has a dependable input capacity of up to 250 sheets which can be upgraded to 500. It is also equipped with a 150-sheet output tray to ensure your documents won't go anywhere.
The input tray can hold a wide variety of paper types, such as envelopes, postal card paper, labels, and plain paper. When it comes to paper sizes, it can handle popular sizes like A4, A5, A6, Legal, Letter, and more. Be sure you have installed the Samsung ML-2851ND driver before loading paper and printing.
Print Speed
Speed does matter for the office environment. Built for business, this model boasts a fast print speed of up to 30 pages per minute, depending on paper sizes. This rating is more than sufficient to handle everyday tasks in your workgroup.
Connectivity
Wired connectivity provides a stable and reliable connection between printer and PC. The ML-2851ND supports wired connectivity technology that includes LAN and USB, making it possible to share the printer with your team.
Consumables
This printer uses a toner to produce sharp black text and graphics. What's interesting about this toner is that it features a toner saver mode that allows you to save printer toner usage.
Conclusion
The ML-2851ND is a dependable business printer designed to improve your work productivity. Before working with this printer, be sure you have downloaded the Samsung ML-2851ND driver to make the device work correctly on your PC.