Hey guys in this article I'm going to show you the best and more comfortable way to Root Realme 5 Pro device. Here more than 3 methods available to root the Realme device.
Some of them don't require any PC to root, but one process requires a PC. Go with that method which is easy for you. Now let me explain some facts about Rooted device.
Safe Box Guide and its team no one is responsible for any kind of loss. Keep it in mind we only guide you. It all depends on you, so do at your own risk.
Previous year Realme sold 1 Million phones of a single model. Isn't it interesting?
Now before going to show the different ways to Root Realme device, make sure you have information about the Realme 5 Pro android device.
What Is Root?
Root allows their user's to customize Android devices according to user's needs. It gives the absolute privilege to the Android user. Sound's Good!
Root has its own pros and cons. Once you root your Realme device, you can do a lot of things. By embedding the Realme device acts as a super device. Below we mention the merits of Rooted device, so you can understand why Realme works as a neat device after rooting.
Pros Of Rooting Realme 5 Pro
Here I talk about critical points of a rooted device. There are lots of merits after Root, but the maximum was useless for new root users. So I decided to write only the main points.
You can install 

Custom ROM

Customize your device

Install the modified version of apps

Remove pre-installed applications

Android device will brick if you make any mistake

Increase device performance by uninstalling useless apps
Cons Of Rooting Realme 5 Pro
Device security loss completely

You'll face Unusual behavior from Realme device

Sometimes android version stop updating

The device will brick if you'll make any mistake

You can't use banking application

The Root will finish the Realme device warranty
Primary Steps To Follow Before Root Realme Device
Below mentioned steps are essential. You can say that without following these steps, you're Unable to root your Realme device.
Make sure that you'll follow these steps. If you're going to Root your Realme device, then you may face some severe issues. I hope you got my point. 
Here are the proper steps –
Enable Developer Option as well as USB debugging

Unlock Realme 5 Pro bootloader

Charge device at least 60%

Install TWRP Recovery

 On this device

A 

PC/Laptop

 is must with a USB cable

Above step is not recommended if you're following the without PC method 
Methods To Root Realme 5 Pro
Well, there are lots of methods available to root Realme devices.
Even I can write more than 5 ways to Root your device. But my main motive is to provide content which helps you. Because 3 Methods of rooting your Realme device is enough for an average user. The methods which I'm going to mention below are much comfortable. These are –
Magisk Method

SuperSu

KingRoot
Note – Every method is different from one another, So read every technique very carefully. Because it helps you to better implementation.
Guide To Root Realme 5 Pro Via Magisk
From a few years, many people like to root their devices via magisk. Do you why? Because of there useful features and easy to use interface. Before jumping to the exact method to root via magisk, let me explain some significant pros of using Magisk.
Steps To Root Realme Device 
First, Download the 

Magisk Zip

 on Realme 5 Pro Device

Next boot Root Realme Device on recovery mode by pressing 

Volume Down + Power Button 

simply.

Then tap On 

install 

button, next find and select the downloaded 

Magisk.zip file

.

Now hit on 

confirm Flash 

button.

The process will be done in a couple of minutes.

Now, 

Realme 5 Pro device

.

Yeah! You just root your Realme device. I hope this guide helps you a lot.
In case if you are unable to implement this process. Then let me know in the comment section. You can follow other Methods given below as an alternate. Are you enjoying it?
Check out our guide to root realme narzo 20 pro device via kingoroot. 
Process To Root Realme 5 Pro Via SuperSu
After Magisk, SuperSu is the most recommended method to Root your android device. Most people use SuperSu as an alternate to magisk.
Steps To Root Realme 5 Pro 
First, of all download 

SuperSu Zip

 on Realme device.

After downloading keep save this 

zip file

 into storage (ROM)

Next, Boot into 

TWRP recovery mode

.

Inside the TWRP Mode, there are lots of options available (Check on your display After Recovery Mode)

Tap on "

Tap on Install

"

Select the zip file which you downloaded

After selecting the zip file, click on the "

Confirm Flash

" button.

Now

Reboot Realme 5 Pro

That's All! Man, You have Root Realme device successfully by using SuperSu. This is the super-easy method to Root. If you are unable to Root then let me know in the comment box. Alter you an see the above video.
Now I'm going to show you the without PC method to root your device. This would be with KingRoot. Are you super excited to know without the PC method to Root?
Note!
Want to Root your android device with the help of Root Expert.
Our team is ready to help you root your android device remotely. Check out here to know more about Safe Box Guide Experts Appointment.
Guide To Root Realme 5 Pro Via KingRoot
Everybody wants fewer efforts, so here's the KingRoot comes into king roll. It provides the super-easy way to root, even a first-time root user can easily use this device.
KingRoot, Gives you the Complete Root access of your android device within a couple of minutes. This is the only reason that more and more people are using this application to root.
Download the 

KingRoot

 Application and install successfully

Open this app and click on "

Try it Button

."

After tapping on trying it button, the root process begins.

Now, wait for a couple of minutes until the process will be done.

Once the device is 

rooted successfully

, then a notification will appear on your Realme 5 Pro, i.e. "

Successfully Root."
I don't think there is an alternate method to root your device within a couple of seconds. In the last article about kingRoot Review, I completely guide you on how it's work, installation process, and more.
In case you want to check whether your android device is rooted of not after following this method then follow the below mention steps.
Steps To Check Root Status
Check Root status Of Realme 5 Pro
Note : This application is paid. But if you're serious to check whether your android device is rooted or not. Then this application is perfect for you. Because checking root status yourself take lot's of time & efforts. But Safe Root Checker will do it in 2-3 seconds for you. It'll save your time and efforts. We think that your time is more important than money. Most important this application recommended by Safe Box Guide editor's and it is 100% secured.
Download Safe Root checker App – Check out here
After installing properly, Next open application.
Next, Tap on "Check Now" If your device is rooted then it will show you the messages i.e "Congratulations! Root access is properly installed on this device

" Else you'll get a message that "Your Device Is Not Rooted"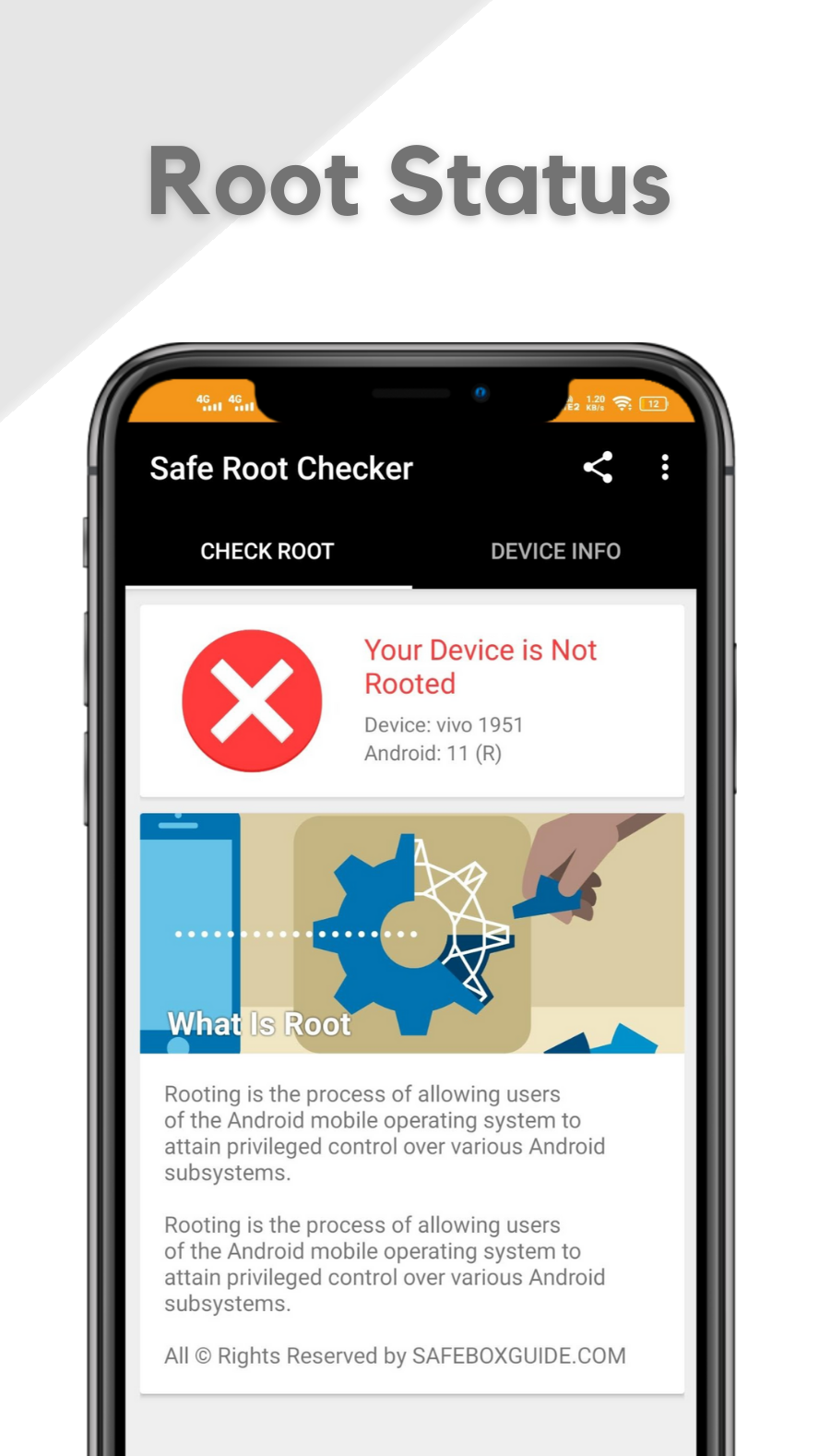 Isn't it's too much simple and time saving application.
For more clearance below we added the infographics to show you how it looks like. The first screenshot show you tap on the verify button and the second one shows you that your device is rooted. I hope you enjoy this guide. Drop down your thoughts on the comment box for more suggestions.
Still want more information about safe root checker. Then make sure you check out the Safe Root Checker official released post here.
Related Articles
Here I added some related content to the Realme device. Because of the same manufacturer, these articles help you to understand how Root works, and how to implement the above mention things.
Summary
This complete article dedicates to teach you about the root process of the Realme device. In my knowledge, I'm giving the best, now it's totally up to you.
The root process is always risky, but it doesn't mean you have to skip. After knowing the Root merits people are trying to root, but they are unable to embed. Because they don't know the exact method to root.
That's why above I added 3 different ways to root the Realme device. Now it's your time to take action. If you have any queries related to this, then drop down your question in the comment section. I'll try to solve your query as soon as possible.
FAQ (Frequently Asked Question)
How to root realme 5 Pro without PC?
First, Open Mobile settings. Next Search security option. Now Enable to Unknown Sources. Download the one-click root app and install it safely. Now Open and click on Root Device. Now the rooting process will start once your device roots; then, you'll get notified. I.e. Root successfully.
How to root realme 5 Pro with PC?
You have to download the Magisk.zip file on your Realme 5 Pro. Now Boot Device on recovery mode by pressing Volume Down + Power Button. Done! Now Click On install and find the Magisk.zip file in ROM and select it. Now click on to confirm Flash Next, the flashing process is done directly by tapping on Reboot. Congrats, you have successfully Rooted Realme 5 Pro.
Can I Install TWRP Recovery On Realme 5 Pro without Root?
Yes, By using the PC method, you can install twrp Recovery on the realme 5 Pro android device. But if you want to install twrp Recovery via twrp official application, then you have to root the realme 5 Pro device before installing the Recovery.
Can I Install Custom ROM on Realme 5 Pro device?
Yes, Once you have installed twrp Recovery on your device (Or Root your realme device.) Then you can easily install any compatible ROM on your Realme 5 Pro device without any issue.