Hey, Guys welcome back to another how-to guide. In this article, I'm going to show you how you can Root Moto G7 Play device in just 5 minutes. Obviously, if you're new, then it takes time. But if you're familiar with Root, then it's easy for you.
How To Root Moto G7 Play
Process Of Rooting every Moto G device is different. This article is completely for Moto G7 Play, So don't try this same method for any other Moto G device.
Rooting android device comes under risk. Do at your OWN risk.
I don't know how should I thankful to you, because the last article about Root Moto G8 Plus is quite popular. Many people show great interest in this device. I like people response now I'm adding the root guide about Moto G7 Play. Are you excited? If yes then congrats this article would be going in-depth.
First, of all, let me introduce you to with device key features. Let's have a quick look at the Moto G device overview.
Key Features of Moto G7 Play – Overview 
| | |
| --- | --- |
| Model | Moto G7 Play |
| Display | IPS LCD capacitive touchscreen, 5.7 inches, 81.4 cm2 |
| Camera / Selfie | 13 MP, f/2.0, 1/3.1″, 1.12µm, / 8 MP, f/2.2, 1/4″, 1.12µm |
| Memory | microSDXC (dedicated slot) , 32GB 2GB RAM |
| Performance | Android 9.0 (Pie), Qualcomm SDM632 Snapdragon 632 Octa-core (4×1.8 GHz Kryo 250 Gold ) |
| Sensors | Fingerprint (rear-mounted), accelerometer, gyro, proximity, compass |
What Is Root?
The root is a Process which gives the complete control of the android device to the user's hand.
In short, Root allows their user's to customize android Device according to user needs. After rooting Moto G device behave like a super device. Because you can remove the pre-system application, which is impossible for a non-root user. I hope you got my point.
Why many people use Rooted device?. And why they want to Root their device. Below I'll discuss the Pros and cons of Root.
Advantages Of Rooted Device 
Let me clear some facts about Root. Yes, Root gives you more functionality to modify your Android device. In other words, we can say these are pros of Rooting. Below I mention some 💎 Gem point about Root. Let's start –
Pros and cons are always a big reason to understand the user's mind. Sometimes user changes their mind to root after reading the cons of Root. That's why I added the excellent Pros and cons of Root for better navigation. Are you guy's ready to know about the pros and cons?
Pros Of Root Moto G7 play 
You can
Install different types of 

Custom ROM

Enhance Device performance

Remove unused application

Use Modified applications without a security warning

Change system fonts

Remove Device bloatware

Increase Moto G battery life ( By uninstalling useless applications )
Above I mentioned the best talk about Root. And we all know along with Pros there are cons also available. So in the next paragraph disadvantages waiting for us. Just like pros Root contains a lot of advantages, these are mention below.
Disadvantage Of Rooted Device
Root have their own cons. Yes, the Rooting process always comes under risk. But as we sometimes know for extra things, we have to take the risk. That's why People use Root to get more features in their Android device. Are you guy's ready. Let's talk below –
Cons Of Root Moto G7 Play
You'll not receive official Android updates

Moto G device will no longer secure

Device data is not secure

The Root will wipe you all data

Android device will brick if you make any mistake

Moto G7 Play

 warranty would lose completely
These are some bitter fact about Root. But don't worry, you can bring back your warranty by unrooting your Android device. Isn't is simple. Type yes in the comment section if you agree. Let me know in the comment section if you have any doubt now.
Check Out a brief guide to unroot Moto G7 Play android device. This will help you to unroot your Moto G7 Play with and without PC safely.
Chief Steps Before Root Moto G Device
Here I added the chief label because the ongoing steps below are essential. Without following these steps, you can't root your Moto G Android device. 
Note – Make sure you follow the steps correctly. Because without following these steps you can't Root Your Android device. Now take a cup of coffee and read lovingly.
Steps Before Root Moto G7 Play 
Unlock Moto G Bootloader

Enable Developer Option as well as USB debugging

A Laptop/PC is must and a USB Cable

For avoiding stocking charge Device at least more than 50%
Above I told what is required for Root. Now it's time to play with action steps. Below I'm going to say some different ways to Root Moto G device. Some method doesn't require PC/Laptop to Root, you can say Root Moto G7 Play without PC. It sounds easy. Now let's jump to the process.
Guide To Root Moto G7 Play Device Via Magisk
Many of our user's ask why you prefer magisk rather than other apps. Let me clear this. Magisk is only one application which gives multiple features to you (User).
Easy install Process

Easy to use

Fully interactive 

Good Functionality 
Many applications declare in there portfolio that they root your device in a single click, but actually, they don't. There is a limited device who root with that application. But magisk Root every device, no matter what's the Android version, Device model and so on.
Why I recommend the only magisk, here's my answer below. 
Many banking application doesn't allow a rooted device to do transactions. That's the limitation of every Root application, but here's the hero come to, i.e. Magisk.
Magisk is only one who allows their user to use banking app.
Magisk hides the Root Status from banking application. As a result, you can easily use banking apps. You can manage these settings in the Magisk app.
That's why I prefer Magisk rather than any XYZ app. But if you're not comfortable with Magisk, then I strongly recommend you to go with KingRoot. We already completed an in-depth article KingRoot Review, This article is enough to clear your all doubts kingRoot.
Steps To Root Moto G7 Play Using Magisk 
Download the

Magisk Zip

 on Moto G7 Device

Now, boot Moto G Device on recovery mode by pressing 

Volume Down + Power Button

.

Tap On 

install 

button and select the downloaded 

Magisk.zip file

Tap on to 

confirm Flash

Soon the process will be done in a couple of minutes.

Last!, 

Reboot Moto G device

Hurray! You have successfully Root your Moto G7 Play device by following our step-by-step guide.
In case if you're unable to do any step or facing any kind of issue, then let me know in the comment section. I'll solve your query as soon as possible. Here's another expert article on Root Moto G7 Play device, in case if you want more information then make sure you check out. This is the simplest method to root. Hope you enjoy our guide, keep reading.
Check out our guide to root moto G8 Plus android device.
Note!
Want to Root your android device with the help of Root Expert.
Our team is ready to help you root your android device remotely. Check out here to know more about Safe Box Guide Experts Appointment.
Guide To Root Moto G7 Play Device Via KingRoot
KingRoot is next trusted application for Root. But the sad thing is about kingRoot, this app is not available on the play store. Due to some privacy or security reasons play protect remove this application.
But don't worry this app is entirely safe, I don't find any bug in this app. Due to its complex algorithm, play protect things that this app is a malware or any kind of spyware. But actually, it's not. It's an application which helps you to Root your device in a couple of seconds.
Steps To Root Moto G7 Play 
First, Download the 

KingRoot

 Application and install successfully.

Now open this app and click on "

Try it Button

."

After tapping the root process will start

Wait to complete the process.

Now the device is 

rooted successfully.

 If Moto G device Rooted successfully then, you'll notify by a notification, i.e. "Root Successful".
That's it! Isn't is easy. If you want to root your device in a short time, then KingRoot is 100% for you. 
This is the exact method that I'm using to root my Android devices for experiencing purpose.
Check out our guide to root moto G9 device, without PC.
In case you want to check whether your android device is rooted of not after following this method then follow the below mention steps.
Steps To Check Root Status
Check Root status Of Moto G7 Play
Note : This application is paid. But if you're serious to check whether your android device is rooted or not. Then this application is perfect for you. Because checking root status yourself take lot's of time & efforts. But Safe Root Checker will do it in 2-3 seconds for you. It'll save your time and efforts. We think that your time is more important than money. Most important this application recommended by Safe Box Guide editor's and it is 100% secured.
Download Safe Root checker App – Check out here
After installing properly, Next open application.
Next, Tap on "Check Now" If your device is rooted then it will show you the messages i.e "Congratulations! Root access is properly installed on this device

" Else you'll get a message that "Your Device Is Not Rooted"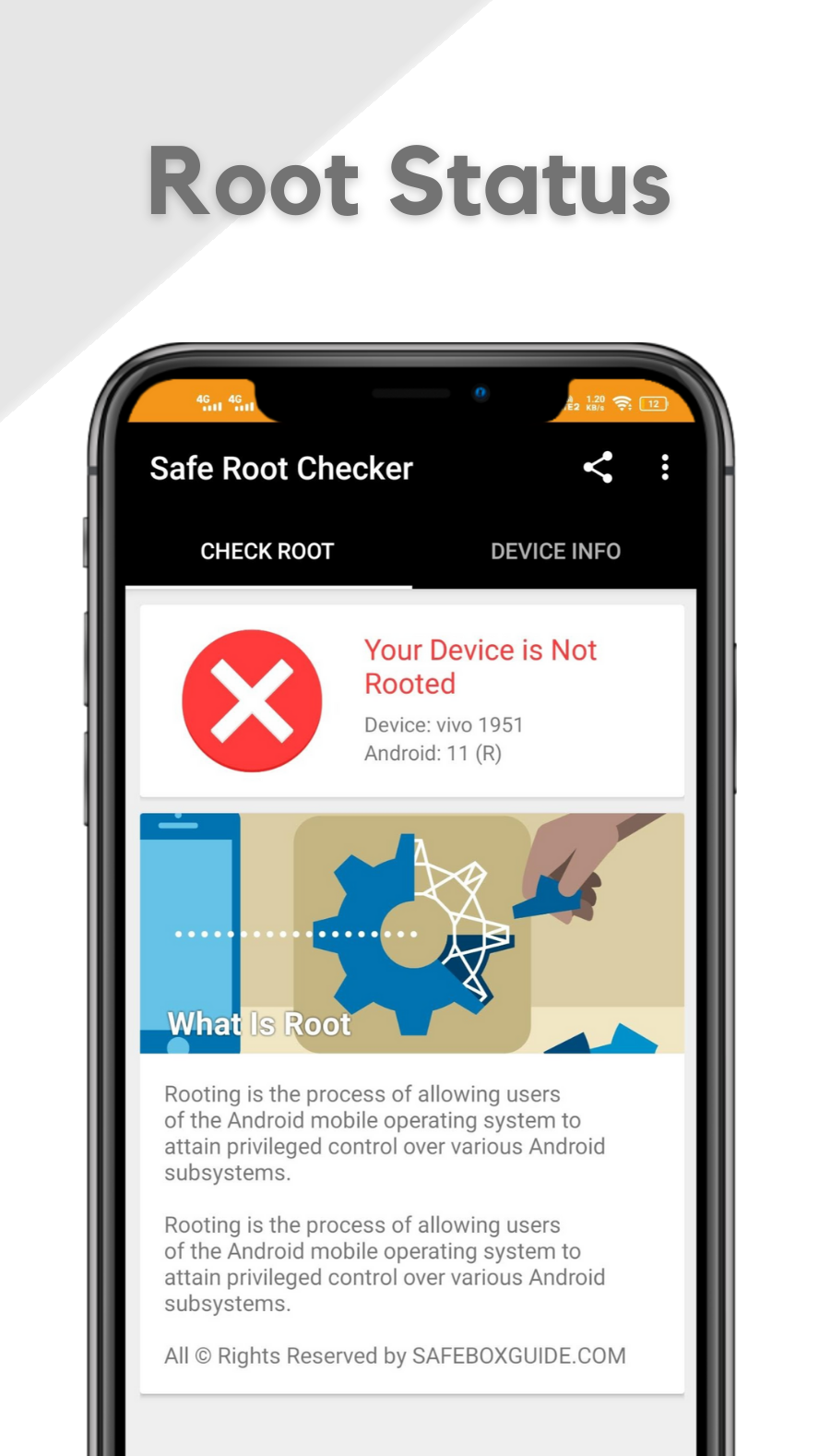 Isn't it's too much simple and time saving application.
For more clearance below we added the infographics to show you how it looks like. The first screenshot show you tap on the verify button and the second one shows you that your device is rooted. I hope you enjoy this guide. Drop down your thoughts on the comment box for more suggestions.
Still want more information about safe root checker. Then make sure you check out the Safe Root Checker official released post here.
Now let me know if you have any queries regarding KingRoot. 
Related Articles
In this related articles section, I added some useful links. So you can understand a better way. This contains more than 2 links to root devices of different models. 
Summary
This article contains two different methods to Root Your Moto G device. Both ways are right and genuine to Root. But as you know, I always recommend you to go with magisk, because of its features. Magisk gives you more features than other applications.
Always make sure that read this complete article before implement. Because sometimes people's are in a hurry and skip some steps. As a result, their device would brick.
You can avoid this problem just by focusing here 5 to 10 minutes. It's not a big deal.
Your suggestion is always important to us. So drop your valuable feedback in the comment section.
FAQ (Frequently Asked Question)
How to root Moto G7 Play without PC?
First, Open Mobile settings. Next Search security option. Now Enable to Unknown Sources. Download the one-click root app and install it safely. Now Open and click on Root Device. Now the rooting process will start once your device roots; then, you'll get notified. I.e. Root successfully.
How to root Moto G7 Play with PC?
You have to download the Magisk.zip file on your Moto G7 Play. Now Boot Device on recovery mode by pressing Volume Down + Power Button. Done! Now Click On install and find the Magisk.zip file in ROM and select it. Now click on to confirm Flash Next, the flashing process is done directly by tapping on Reboot. Congrats, you have successfully Rooted Moto G7 Play.
Can I Install TWRP Recovery On Moto G7 Play without Root?
Yes, By using the PC method, you can install twrp recovery on Moto G7 Play android device. But if you want to install twrp recovery via twrp official application, then you have to root Moto G7 Play device before installing the recovery.
Can I Install Custom ROM on the Moto G7 Play device?
Yes, Once you have installed twrp recovery on your device (Or Root your Moto G device.) Then you can easily install any compatible ROM on your Moto G7 Play device without any issue.