Hey folk, do you want to Root Samsung Galaxy Z Flip & Z Fold 2 new smartphones? If yes, then this guide is especially for you. In this article, I'm going to guide you in-depth, so after reading this guide, you can easily root your Galaxy device. 
We'll guide you three methods to root galaxy Z Flip & Z Fold 2 devices which include PC and without PC method. Go with which you feel comfortable.
But before going to the immediate rooting process, you should have information about rooting like Pros and cons after rooting a device, and most asked why you need to root your android smartphone. Soon you'll get every answer in this article until you stay tuned with us.
Disclaimer
SafeBoxGuide is not responsible for any kind of loss. The method of rooting in this article only works for a specific device. Don't try this same method for another device, if you do then this may be the reason for your getting brick.
Be careful while rooting your Asus device. I suggest that you read the process of rooting at least two times, because if you read this guide two times, then there are fewer chances of mistakes by you.
And last but not least, SafeBoxGuide is neither affiliated with any program and does not sponsor any application to mention in this article. I only guide via this application because these are easy to use and easy interfaces.
What Is Root?
Root allows its users to customize android devices. It gives the administrator access to the user's hand.
By default, your manufacturer doesn't provide you with permission to do this, but Root allows. After rooting Samsung Galaxy, Z Flip & Z Fold 2 showed extraordinary performance.
Below mentioned methods also work for Samsung Galaxy Z Flip & Z Fold 2 so don't worry because the manufacturer of this device has the same and almost similar vital features.
Why do you need to Root Samsung Galaxy Z Flip & Z Fold 2?
Behind every work, there is a reason. So before rooting your android device, you should have a proper reason to root your smartphone.
But before going to the next steps, we should be thankful to the TWRP team and xda developers, because these things can't be possible without them.
Whether there are a lot of third-party applications available on the play store, but xda developer and TWRP both are the sign of trust. So you can go with them. Did you enjoy this guide?
As everyone knows, after rooting, smartphones became very fast. But it's ultimately a myth. Yes, I agree with that after rooting your device would perform better than before.
But It's not necessary because this process is not as easy as you think. And with a bit of a mistake, your device may brick.
Here I guide you with some easy steps to root an android device. If you love to root android phones, then you'll love this guide. Before going to the next level, Let's jump to the advantages of rooting.
Merits And Demerits Of Root
Here we'll guide you the dangerous things about roots.
Pros 
Here we talk about some common and significant facts about rooting. Let's start –
You can easily customize your android device without facing any problem.

Install Modified applications and enjoy pro version in free

You can

install Android 11 Beta Custom ROM

.
Cons
Well, there are a bunch of demerits after rooting. So let's explore step by step.
First, after rooting Galaxy Z Flip & Z Fold 2 device warranty would be lost permanently. Mean you can't claim any hardware warranty against customer care. But if you want to back your device warranty, then you have to unroot your device.

You can't use banking applications, because banking applications are too secure. So banking applications don't run on any rooted device. But by using magisk, you can use banking applications without facing any problem. I suggest you download magisk manager from the official website to use the banking application.
Check Out a brief guide to unroot Galaxy Z flip & Z fold android device. This will help you to unroot your Samsung Galaxy Z flip & Z fold with and without PC safely.
Tips – Implement Before Rooting
These tips are a must; you can't root your android device without implementing these tips.
So I recommend you implement these tips before going to the next step of the rooting process. Steps are –
Galaxy Z Flip & Z Fold 2 bootloader should be unlocked; the process of unlocking the bootloader is quite an easy process.

Before rooting you have to

install TWRP recovery

on your device,

The device battery should be charged at least 60% This step is necessary because sometimes the rooting process takes time, so avoiding to stop the procedure makes sure you set the required % of battery.
Root Samsung Galaxy Z Flip & Z Fold 2 via Magisk – 1st Method
You have download

Magisk.zip

file on your Galaxy Z Flip & Z Fold 2

Now Boot Device on recovery mode by Pressing.

Volume Down + Power Button

Done! Now Click On install and find the

Magisk.zip

file in ROM and select it.

Now click on to

confirm Flash

Next, the flashing process is done now by tapping on

Reboot

.

Congrats, you have successfully Rooted Samsung Galaxy Z Flip & Z Fold 2.
Everything is perfect. You can customize your android device as you want.
You can install mod apk, change fonts and do whatever you want. Hope you enjoy this guide drop down your suggestion in the comment section.
Root Samsung Galaxy Z Flip & Z Fold 2 Via KingoRoot App – 2nd Method
Download

KingoRoot

Application from Playstore

Open the application and click on "

One Click Root

."

Now, this app will start the Rooting Process.

Once the whole process is done, you will see a notification that is "Root Succeeded."
Perfect! Your Samsung Galaxy Z Flip & Z Fold 2 is rooted now and does whatever you want. Install custom ROM and modify your device as you wish. 
Root Samsung Galaxy Z Flip & Z Fold 2 via one-click root – 3rd Method
This method won't require any PC/Laptop to root your device. The only need is your android device, so take a cup of coffee and enjoy this guide.
First, Open

Mobile settings

.

Next Search security option

Now Enable to

Unknown Sources

Download

one-click root

app and install safely

Now Open and click on

Root Device

Now the rooting process will start once your device roots then you'll get notified. i.e.

Root successfully
That's all! This method of rooting is just like above but with different applications. Now it's your turn to root your device. Dropdown your root story in the comment section. If you face any problem, then ask your question. We'll be glad to reply to you.
In case you want to check whether your android device is rooted of not after following this method then follow the below mention steps.
Steps To Check Root Status
Check Root status Of Root Samsung Galaxy Z Flip & Z Fold 2
Note : This application is paid. But if you're serious to check whether your android device is rooted or not. Then this application is perfect for you. Because checking root status yourself take lot's of time & efforts. But Safe Root Checker will do it in 2-3 seconds for you. It'll save your time and efforts. We think that your time is more important than money. Most important this application recommended by Safe Box Guide editor's and it is 100% secured.
Download Safe Root checker App – Check out here
After installing properly, Next open application.
Next, Tap on "Check Now" If your device is rooted then it will show you the messages i.e "Congratulations! Root access is properly installed on this device

" Else you'll get a message that "Your Device Is Not Rooted"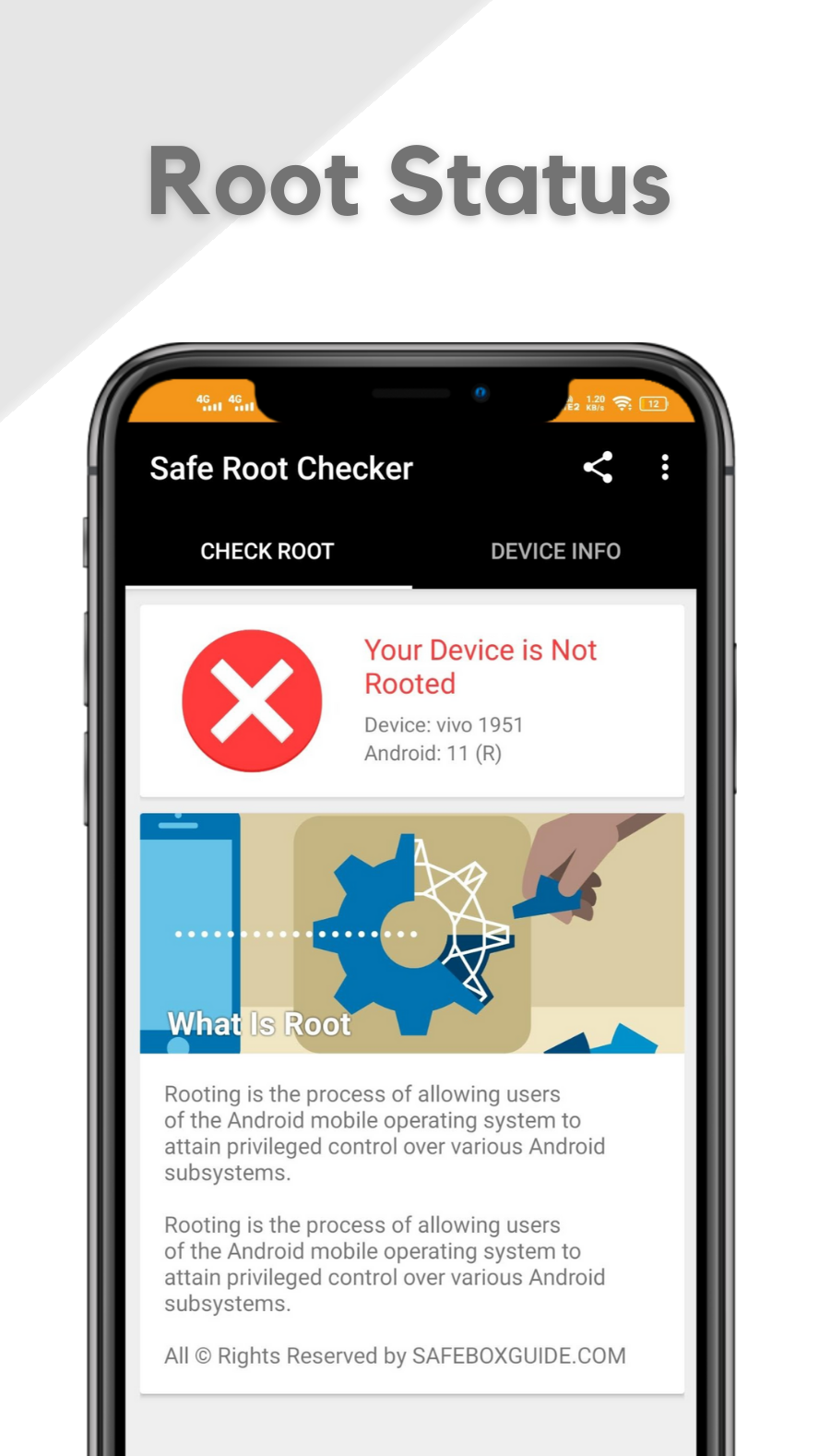 Isn't it's too much simple and time saving application.
For more clearance below we added the infographics to show you how it looks like. The first screenshot show you tap on the verify button and the second one shows you that your device is rooted. I hope you enjoy this guide. Drop down your thoughts on the comment box for more suggestions.
Still want more information about safe root checker. Then make sure you check out the Safe Root Checker official released post here.
Conclusion
These methods of rooting are verified by us. Choose any one way to Samsung Galaxy Z Flip & Z Fold 2 devices. 
If you don't have a PC, then you can use the PC method on the Samsung Galaxy Z Flip & Z Fold 2. Hope it helps.