If you are looking for an economical web hosting solution, MilesWeb is the top-recommended name. Being India's cheap VPS hosting provider, they offer top-notch VPS hosting services to customers worldwide.
Also, they do not charge hefty amounts from customers. With VPS hosting plans, MilesWeb provides a massive discount of up to 25%! The company also offers cheap Windows VPS plans with complete VPS management so that you can enjoy a stress-free VPS environment.
We always think that if the web hosting provider offers low-cost services, they might compromise on the quality. However, MilesWeb offers high-quality web hosting services at prices that can actually fit your budget!
Let us look at an overview of MilesWeb's affordable VPS hosting service and explore more information. But before we move to the main section of this review, let us know briefly about VPS hosting.
Know What is VPS Hosting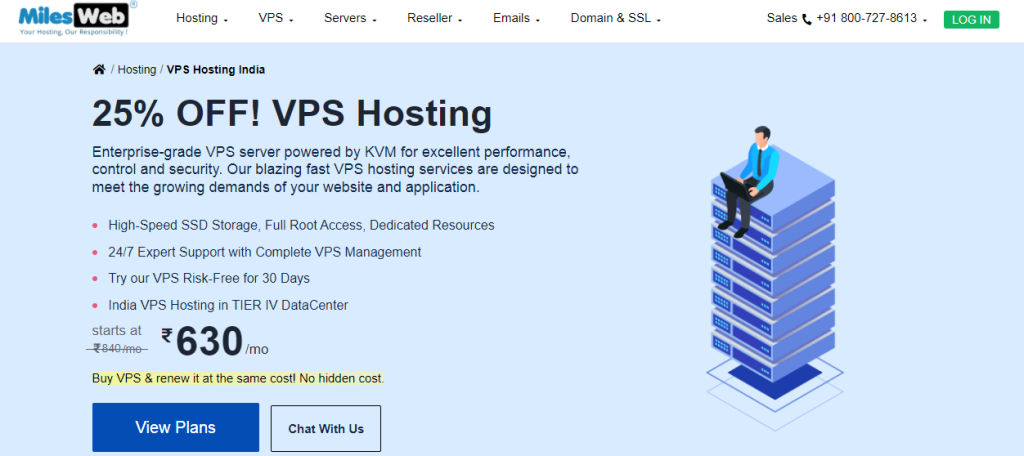 VPS stands for a virtual private server. One physical server is split into multiple virtual private servers in VPS hosting. Each server has its own set of dedicated resources like CPU, RAM, and SSD storage space. You get an isolated hosting environment to host your websites or applications.
Virtual servers operate similarly to a dedicated server, but it's less expensive than a dedicated server. No external users can hamper or affect your websites' performance in this isolated web hosting environment.
Moreover, VPS hosting servers come at a nominal cost that suits the budget parameters of users. VPS hosting from MilesWeb is a great option to host your high-traffic websites or applications.
Affordable VPS Hosting Plans by MilesWeb
MilesWeb offers ten managed Linux VPS hosting plans followed by six Windows VPS hosting plans. All plans are reliable, ensuring top-notch server security and advanced resources to host applications.
Linux VPS Hosting
The web hosting company offers affordable Linux VPS hosting. However, they do not compromise with quality standards despite giving discounts.
MilesWeb offers server resources ranging from 50 GB SSD disk space to 500 GB SSD disk space, RAM is ranging from 2 GB to 128GB, bandwidth ranging from 500 GB to 3000GB. The Linux VPS hosting plan starts at Rs. 630 per month.
Windows VPS Hosting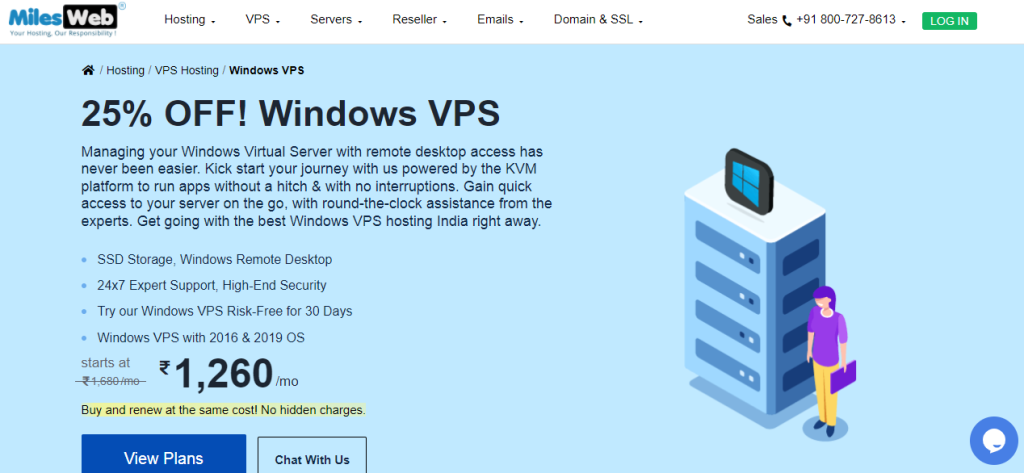 MilesWeb offers affordable Windows VPS hosting services to customers. They offer six affordable hosting plans that start from Rs. 1,260 per month. This web hosting service also allows consumers to get ample server resources to host web websites/applications.
With Windows VPS hosting, MilesWeb offers the below resources to power your websites or applications. SSD Disk space ranging from 50 GB to 500 GB, bandwidth ranging from 500 GB to 3000 GB, and so on.
MilesWeb's affordable VPS hosting packages for Linux and Windows OS is an ideal option for web developers. It is because they offer full SSH root access over web applications.
Pros of MilesWeb's VPS Hosting
SSD VPS Server
All MilesWeb's VPS hosting servers comprise SSD disk space. Websites are hosted on powerful SSD storage drives. They perform better than conventional hard disks to host high-traffic volume websites or applications. The SSD drives are built for speed and reliable platforms for hosting websites/apps.
Guaranteed 99.99% Uptime
MilesWeb provides 99.99% guaranteed uptime with its VPS hosting services. They have Tier 4 data centers with a robust infrastructure. Proficient technical experts at MilesWeb continuously monitor the server's operation. Due to advanced server resources and configuration, they are committed to higher uptime.
Best-in-Class Support 24×7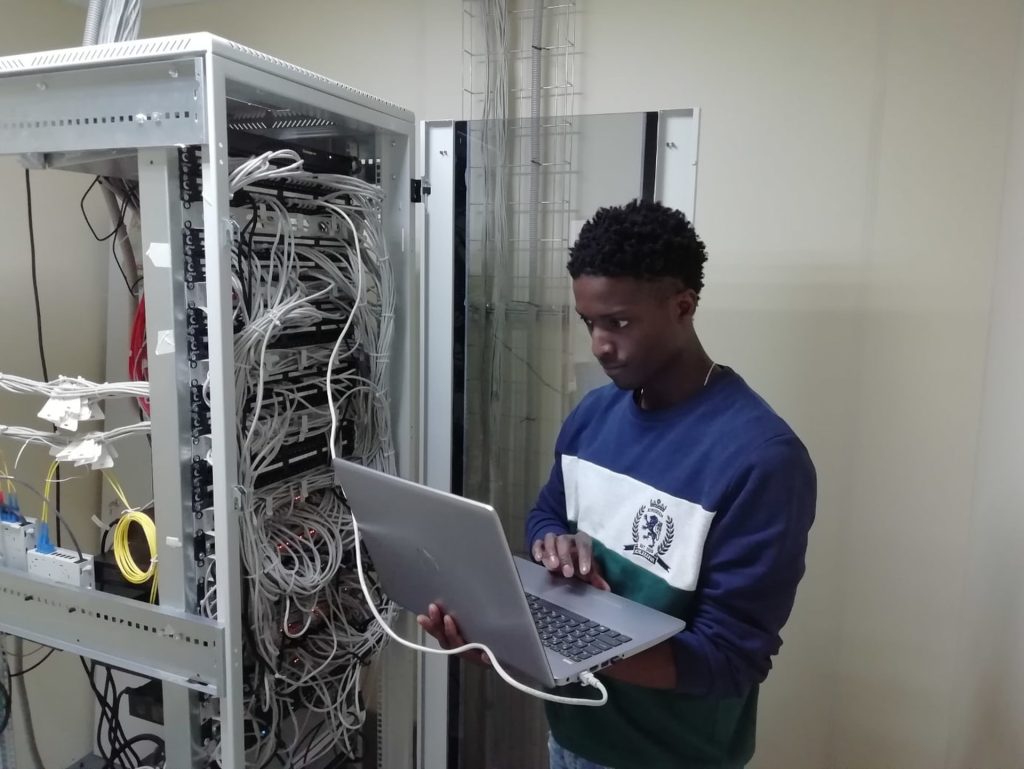 MilesWeb has an experienced technical team to cater the best tech support to their customers. They are available 24*7 on email and live chat to assist and fix technical glitches you face during your hosting journey. Connect with them any time.
Full Root SSH Access
MilesWeb offers full root SSH access with every VPS hosting service. With this, users get complete administrative control over the VPS server. They can easily install third-party applications that are compatible with the operating system.
Also, they can customize applications on the VPS server with the Secure Shell Transfer Protocol.
100 Mbps Network Speed
MilesWeb gives the optimal loading speed of web applications on all VPS servers. Their servers provide data transfer speed up to 100 Mbps to host resource-heavy projects with zero performance issues. Give your visitors a smooth browsing experience with an excellent loading time for websites and applications.
Affordable VPS Hosting Plan: A Safer Side for Users
Sometimes, users have to work on a tight budget. Thus, they compromise with the web hosting quality standards putting their brand integrity at risk. However, MilesWeb offers economically viable VPS hosting plans that give users a virtual space to host websites or applications.
Also, they avoid noisy web hosting neighbors by scaling their applications in an isolated environment.
The VPS hosting server by MilesWeb is a perfect fit for all levels of web traffic. Moreover, it is an ideal choice if users have the objective of getting dedicated server resources at a nominal price.
In a nutshell, their VPS hosting plans are suitable to get top-notch web hosting services under budget.
Are Lower-Cost VPS Hosting Plans Suitable For Me?
MilesWeb's inexpensive VPS hosting plans are suitable for individuals and organizations. These advanced VPS servers host volumes of applications hassle-free.
Moreover, cheap VPS servers are compatible with a range of digital assets like mobile applications and corporate websites. Hence, if users are looking for a reliable web hosting infrastructure with less investment, cheap VPS plans are suitable.
To Sum Up
MilesWeb is the leading web hosting company providing affordable VPS hosting services. They ensure 24×7 website availability with a 99.99% uptime. Thereby, they successfully retain potential customers by providing cheap yet reliable services.
Their VPS hosting plans are best in terms of speed and performance. Thus, MilesWeb is the trusted name among users. They deliver faster and affordable VPS hosting plans with a robust infrastructure and server resources for Linux and Windows OS.