Today, automated marketing is one of the key tools for the success of a business because, as such, it has great power to improve the company's business.
The marketing automation tools available today will save you time and add an entirely new dimension to your marketing. Nonetheless, they will assist you in growing your business much more quickly. Social media is a prime example of using automation. If you look at Instagram then, it can be seen that Instagram users are using a lot of automation softwares to increase their visibility. Many users also use IG viewer tools to research about the marketplace
Also, one thing that can be a game-changer for growing your business is using a high-quality hosting platform for your website. These high-quality platforms, like WPMU DEV, will make sure to provide you with everything to update, optimize, secure your website, and more.
One thing that sets WPMU DEV's hosting platform apart is that as well as having all the hosting features you'd expect – it also comes built-in with 7 pro-WP plugins – covering performance, security, backups, and more. Get 20% off any of their plans.
Many tools are pre-designed for marketing automation, but we will look at some of the best for small businesses below.
1. HubSpot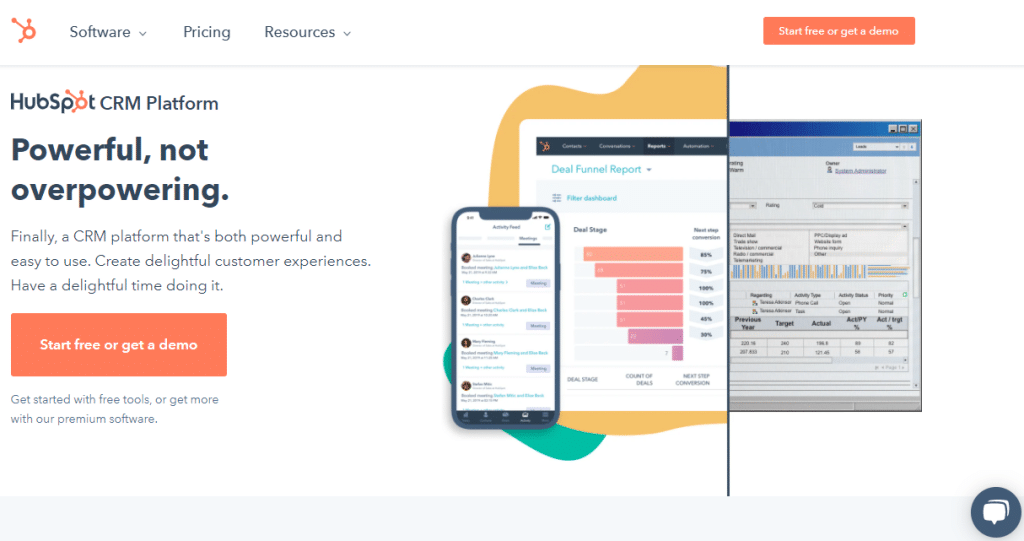 HubSpot is one of the best CRM marketing automation tools for small businesses. Namely, with this tool, you will very simply and quickly achieve the desired results and improve your business through marketing automation. This tool offers:
Managing pipeline with total visibility – get a view of your entire sales on a clean, visual dashboard where you can sort pieces of information.
Logging sales activity – HubSpot CRM tracks customer interactions automatically, whether it is about an email, social media, or a call, and syncing with Gmail or Outlook will make it possible to capture every call, email, or meeting.
Seeing everything about a lead in one place – you can store together each interaction from calls, emails, meetings, and notes. That way, you always have easy access to the information.
100% Free – Simply and utterly free of charge, but there is always an opportunity to upgrade as the business grows.
2. Sendinblue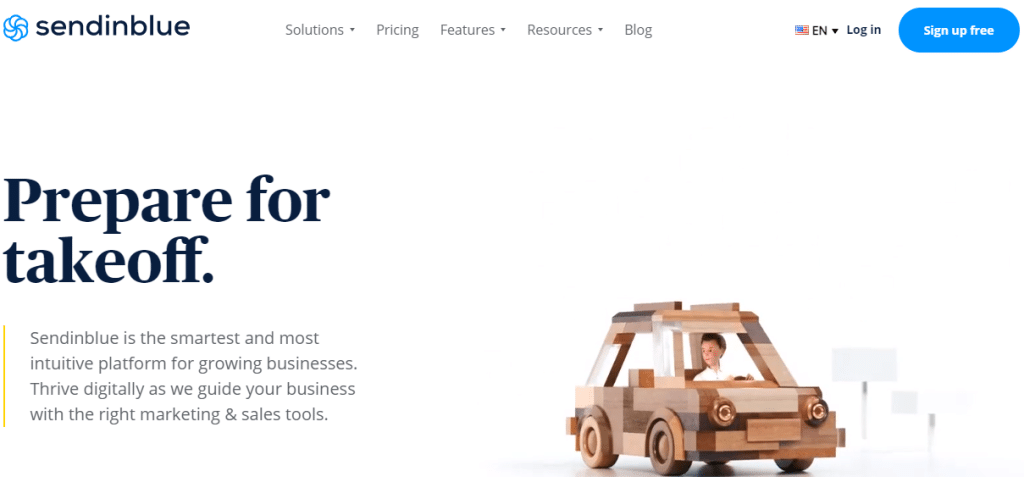 Sendinblue is an all-in-one marketing platform that assists small businesses in growing. As they put it, their dream is to live in a world where small businesses are treated equally to large ones.
The marketing automation offered by this platform includes:
Email/SMS Marketing – the ability to design email messages and direct communication with customers.
Chat – instant communication with customers while they are browsing a website.
Inbox – shared inbox to reduce the chances of losing customers' email history.
CRM – tracking all contacts and their details from one place
Transactional email – enhance transactional messages in every way.
Segmentation – better targeting for better engagement.
Landing Pages, Signup Forms, and Facebook Ads – for a higher conversion rate and more efficient conversion of visitors into clients.
Sendinblue offers some features completely free, and for more advanced features and more significant business growth, there are:
Lite package: 19€/month
Premium package: 49€/month
Enterprise package whose price envies your needs and desires
3. Mailchimp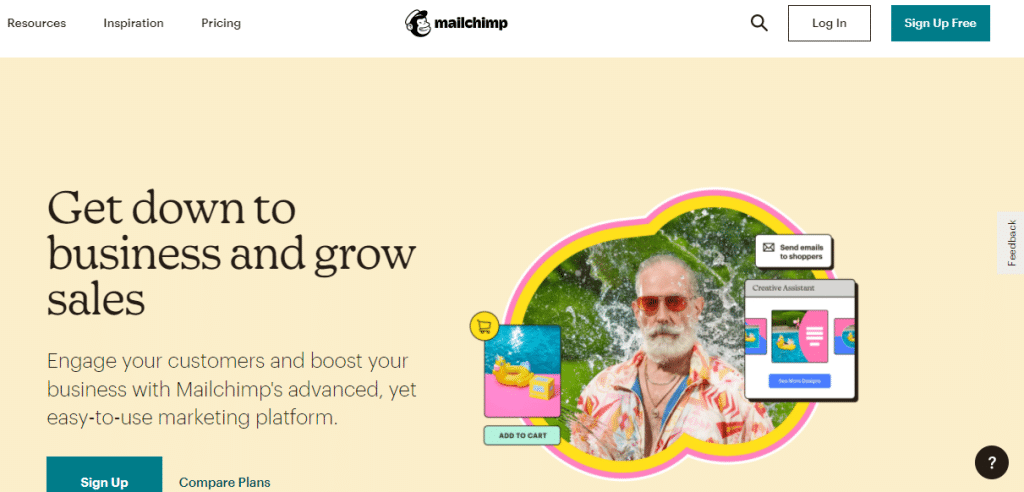 Mailchimp is another all-in-one marketing platform specializing in starting new, growing small, and maintaining large businesses. It has a wide range of products, including Audience Management, Marketing Automation, and Insights & Analytics.
Why we have mentioned this platform in this text is undoubtedly their Marketing Automation product which includes:
Customer Journeys – adjusting a customer's purchasing paths based on his behavior.
Behavior-based automation – sending messages based on a customer's interaction with the application.
Transactional email – functionality intended for developers to send transactional emails.
Postcards – send postcards to customers at specified intervals.
Date-based automation – contacting customers on important days and dates such as birthdays and anniversaries.
RSS-to-email – sharing the latest posts with customers and visitors.
Mailchimp provides products for scheduling and pre-built journeys in addition to automation. In terms of pricing, the platform offers a variety of packages for various products, ranging from free to $299 per month. Of course, there are also prices for some products that depend on your needs, desires, and uses.
4. EngageBay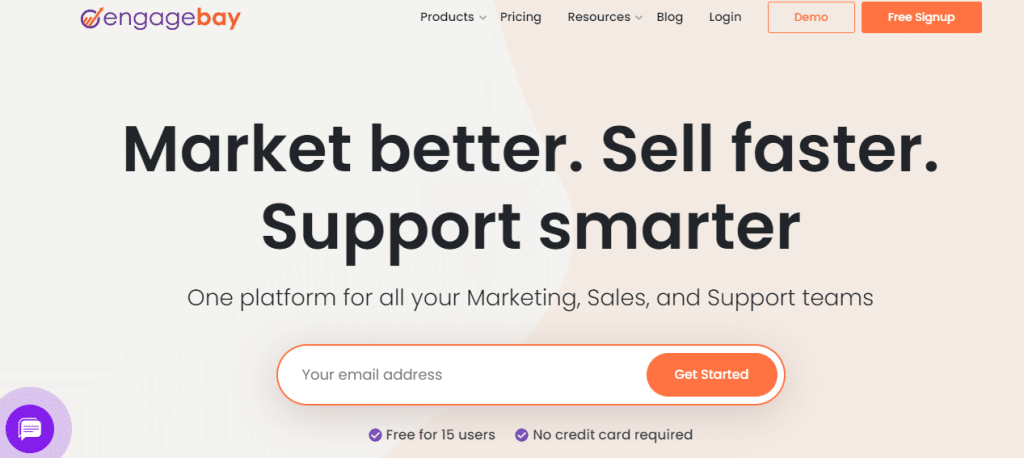 EngageBay is a software platform launched to help small businesses automate marketing and sales, all to create new customers, make deals, and increase revenue – in a word, grow a business.
Marketing automation offered by this platform brings with it:
Streamline marketing – simplifying all processes and setting automation rules.
Visual Designer – a drag-and-drop way to design marketing and sales flows.
Drip Email Campaigns – set up sequences and schedules for automatic sending of emails.
Smart Customer Segmentation – automatic segmentation of customers based on their behavior.
Email Personalization – customizing emails for each customer individually.
In addition to the functionalities mentioned above and described, the marketing automation of this platform has many others that can be very beneficial to you and your business.
Many factors affect the price of the services and the products of this tool. So visit their website and check the price you need to pay to grow your business. We will only mention that they also offer a free package.
5. GetResponse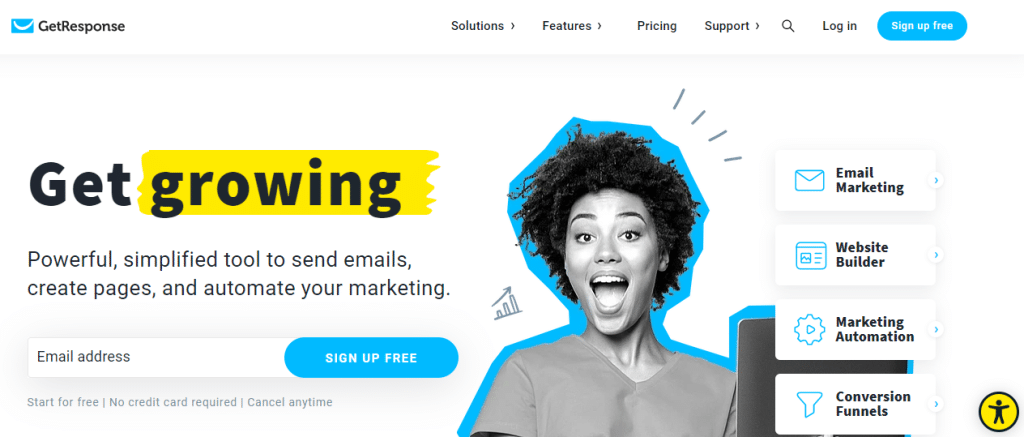 GetResponse is a marketing platform that motivates companies, particularly small businesses, to do what they do. Furthermore, offer them their products, the most important of which is Email Marketing – Marketing Automation, Live Chat, and Landing Pages are just a few examples.
This platform's Marketing Automation allows business owners to provide a better customer experience to their customers and visitors, but it does so automatically.
That's why marketing automation offered by GetResponse includes pre-created workflows, segmenting contacts, targeting visitors and customers based on their behavior, automating sending emails, and more. If you want to read more about this theme, here you have a guide to sms marketing automation.
GetResponse sells its four packages:
Completely free Free package
Basic package: €13/month
Plus package: €45/month
Professional package: €89/month
6. Postalytics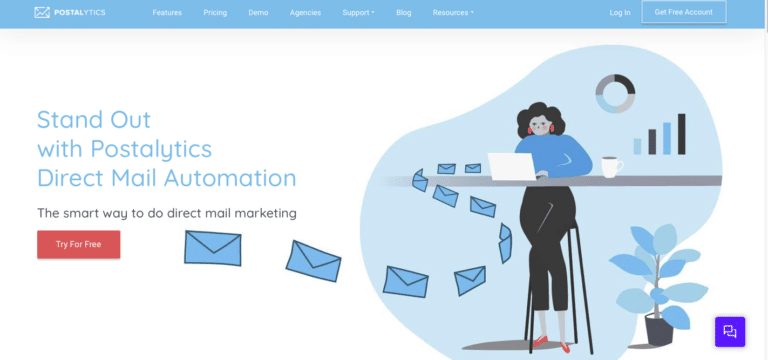 Postalytics
is one of the best direct mail automation platforms that helps smart marketers easily create, send, and measure the performance of their direct mail campaigns–without the hassle of manually entering data. Our smart software automatically gathers and delivers all the data you need to make smarter marketing decisions and help you meet your campaign goals.
The Postalytics platform integrates with your CRM system and mailing list provider to automate some of the most time-consuming parts of managing a campaign, such as adding addresses to a list and generating personalized content. Automation tools are available to help you predict response rates and avoid waste. The reporting dashboard makes it easy to view campaign performance at a glance.
Postalytics automates your direct mail campaign workflow so you can focus on what matters most: results.
Postalytics offers some features for free and to unlock more great features that would bring your business to the top, you can choose from our premium plans:
Free Plan – 0/month
Marketer Plan – $199USD/month
Pro & Agency Plans – 399USD/month
All Postalytics Direct Mail Pricing Plans Include:
Direct Mail Builder & Dashboards
Full-Service Printing & Mailing Services
Full HubSpot & ActiveCampaign, Zoho, Keap and Zapier Integration
(Salesforce In Pro & Agency)
Patent-Pending Tracking
Conclusion
We've seen how many things can be automated when it comes to marketing. While we could do all of this manually, marketing automation frees up time spent on other business-related tasks.
In addition, it reduces, i.e., it excludes the possibility of human error. So, wisely decide which tool is best for you, leave the marketing to it, and then watch your business grow!