The concept of remote work has been around for some time, but most organizations did not focus on it before 2020. The COVID-19 pandemic brought the world to a standstill, which affected businesses. Many industries shifted to remote working as an alternative. The IT industry was one of the first to adopt remote working. The pandemic may have subsided to some extent, but remote work has become integral to many organizations. 
Shifting to remote work is challenging, especially setting up an infrastructure and hiring the right talent. In this post, we will discuss the benefits of hiring remote software developers and how to hire and manage remote teams across the globe. 
Why should you hire remote engineers?

Access to talent pool from across the globe
As your business grows, you need to scale up your engineering team. However, finding the right talent in a particular location is challenging. When you turn towards remote hiring, you can access a global talent pool and hire the best minds from different parts of the globe. 
Save money
When companies hire remote employees, they save considerable money that was otherwise spent on office furniture, real estate, utilities, traveling, etc. 
Happy employees
Working from home or preferred location helps employees spend more time with their families. They can save commuting time while working from the comfort of their homes. Surveys conducted by various agencies confirmed that remote workers are happier than ones working from offices. 
Increased productivity
It is another reason to hire remote engineers. They can work from their home or preferred location, where they can have peace of mind. It enables them to pay more attention and get things done sooner. Remote engineers can also be more creative as they can define their working hours when they are more productive.
Less absenteeism
Absenteeism is a significant problem for businesses as it affects productivity and project deadlines. Remote working means less absenteeism as employees can work from anywhere while on vacation or out of town.
Seven tips for managing remote teams efficiently.

Hire right employees
In remote work, the employees enjoy the comfort of their homes. Sometimes, they may get too relaxed and lose focus, affecting their productivity. So, hiring the right employees is a prerequisite for remote working. Setting up the right expectations can help you hire remote engineers who will be motivated and more productive.
Ensure the employees have the setup
Remote working can be challenging if your employees don't have the proper setup. You must ensure the employees have access to the essential software, tools, technologies, and a stable internet connection to do their job. Besides that, access to a webcam is crucial as they have to attend virtual meetings. 
Define roles and responsibilities clearly 
Defining the roles and responsibilities of your employees is essential before embarking on any project. Since multiple people will work on a project, you should specify the roles of every member. It will increase accountability and ensure everyone completes their job on time.
Define a clear work schedule
Even though remote work means flexibility, defining a work schedule is essential. It helps them complete daily work efficiently and on time. Moreover, a defined work schedule will enable the engineers to maintain a better work-life balance.
Establish communication channels 
In a remote setup, communication is key to completing the project efficiently. The team members can discuss various things related to the work and solve issues when needed. A teamwide instant messaging channel will also help communicate important announcements to all the team members and ensure no one misses out.
Check progress regularly
Checking the progress helps remove any hindrance and complete the project on time. Besides that, it ensures everyone is on the same page. A teamwide meeting should be conducted where everyone can give updates on their tasks and get the guidance, if necessary.
Take care of employee well-being

.
You can't run a business successfully if your employees are not happy. Multiple researchers have suggested that happy employees are more engaged and productive. Managing a positive work environment improves the personal well-being and makes employees happy. Furthermore, they focus more on the work, which leads to increased productivity. Conducting happy hour meetings, appreciating team members, and celebrating wins are ways to ensure that your team feels valued and heard.
How to hire remote software engineers?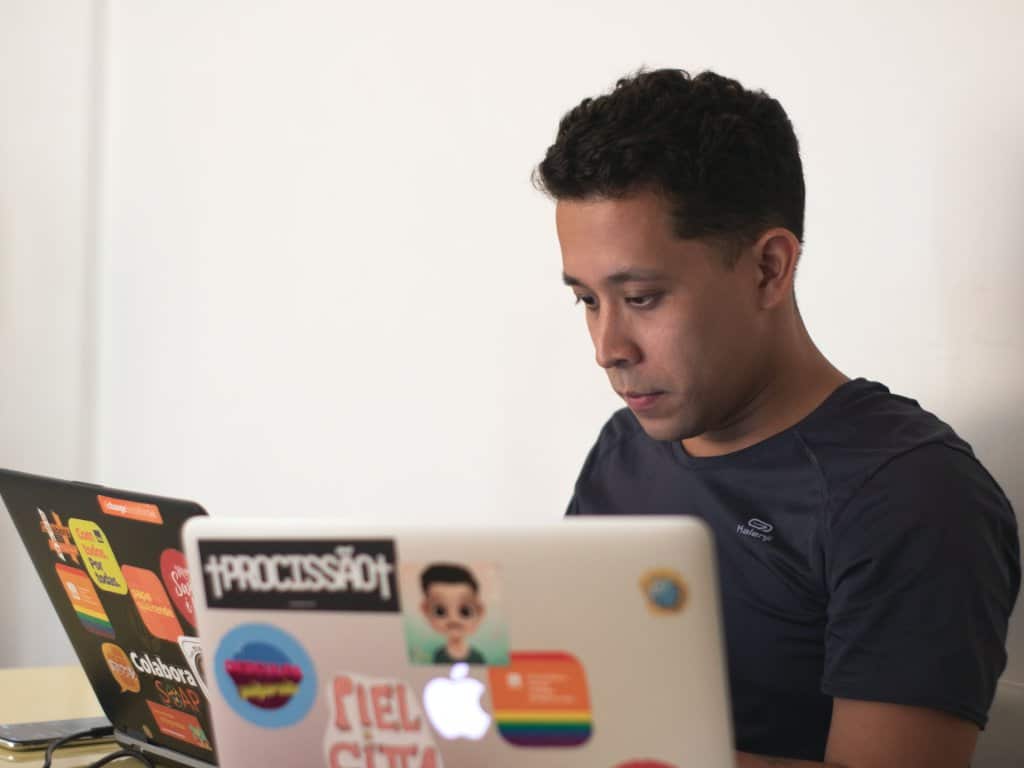 Hiring remote engineers are challenging as more organizations are shifting towards remote working. However, following these simple steps can reduce your effort and help you find the top-notch engineers for your business. 
Post a job advertisement
Posting a job ad on different channels is the first step to hiring remote engineers. A detailed job description can help you source suitable candidates. It should include the roles and responsibilities of the candidate. Besides that, you should also mention the skills and experience you are looking for and the salary and benefits you can offer. 
Screening the resume
Once you post your job advertisement, you will get hundreds of applications from different parts of the world. The next step is screening the resumes to shortlist the most suitable candidates. It will require a significant amount of time, but hiring remote engineers who will be best suited for the job is crucial.
Take a programming test
It is another crucial step to follow to hire remote software engineers successfully. A coding test will help you evaluate the candidate's coding and problem-solving skills. These tests will also assess their familiarity with different programming languages and their depth of knowledge.
Interview the candidates
The above steps will help you shortlist candidates based on screening and programming tests. However, you need an interview session to know the candidate better. It is an opportunity to know more about the engineer's previous work, personality, and technical and communication skills, which helps you evaluate if the candidate is a good match for your organization. 
Conclusion
Hiring remote engineers requires a considerable amount of time and effort. Posting a clear job description will help you find suitable candidates. However, screening resumes and shortlisting candidates for interviews takes a considerable amount of time and resources, slowing down the hiring process.
You can also opt for outsourcing companies to speed up the process and hire the best talent for your organization. Once you have hired the candidates, follow some simple steps to manage remote teams and ensure a smooth working experience to meet overall business objectives.
Author's Bio
Subhasish Dutta
Subhasish is a science graduate but a passionate writer and wordsmith who writes website content, blogs, articles, and social media content on technologies, equity market, traveling, and other domains. He has worked with Affnosys and FTI Technologies as a content writer.