As we know, WordPress is one of the most popular content management systems for making websites. It is estimated that about 40% of all websites use this platform and enjoy all its benefits.
One of the best things that WordPress can offer is creating websites without writing any single line of code. Also, some essential features that we have to mention are that it is simple to use and will allow you to create more modest and more complicated sites.
If you are a beginner and you don't know much about WordPress, you probably wonder how to start learning this excellent CMS. Or if you are familiar with them, but you want to improve your knowledge.
Simply, you can find plenty of online courses about this topic. People are often in doubt about which of these courses are right for them.
Please read the following and find one of those four best WordPress training courses that we single out through this article.
1. Udemy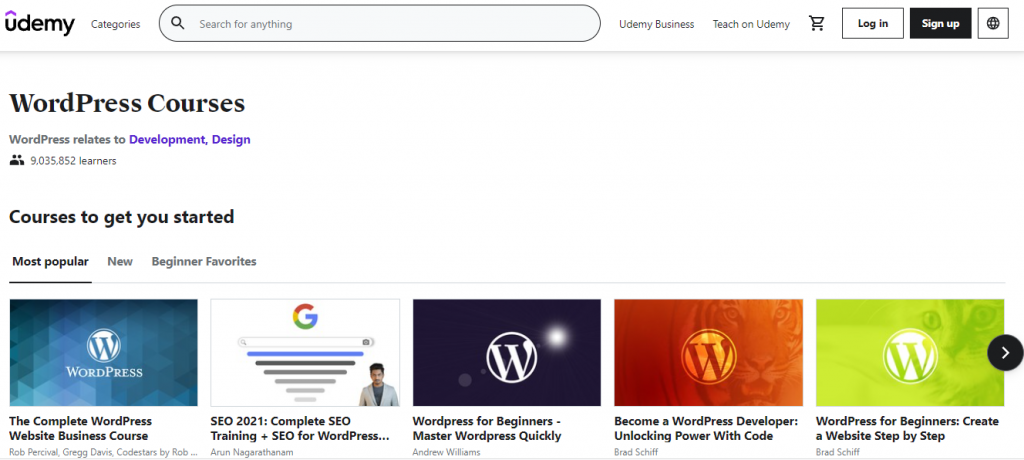 Besides WordPress, the Udemy platform offers a wide range of different online courses. Some of the most popular courses about WordPress are the Complete WordPress Developer Course, Professional WordPress Themes and Plugins, etc. As you can see, there are courses for beginners and others who want to improve their knowledge about WordPress.
Do you have a goal to become a professional WordPress developer? No problem. You can do it with Udemy.
Price: The price depends on the courses' type, but it usually starts from $12.99. However, you can find some WordPress courses for $10.99.
2. WP Sessions
With WP Sessions, you can become a WP expert. However, it will divide video tutorials for you into sessions that provide different cover topics related to WordPress. Also, you can read more about each session (what you can learn, who will be your lecturer, etc.) before you become a member and buy it.
Another feature that they provide is private WordPress training. However, this is personalized training for you and your team as well. Through this training, every team member gets an opportunity to improve their knowledge and do their best work.
Price: Before you take some courses, you need to become a member, and you can choose from monthly and annually joining. The annual plan costs $41, and you are getting it for free first five months.
3. Lynda.com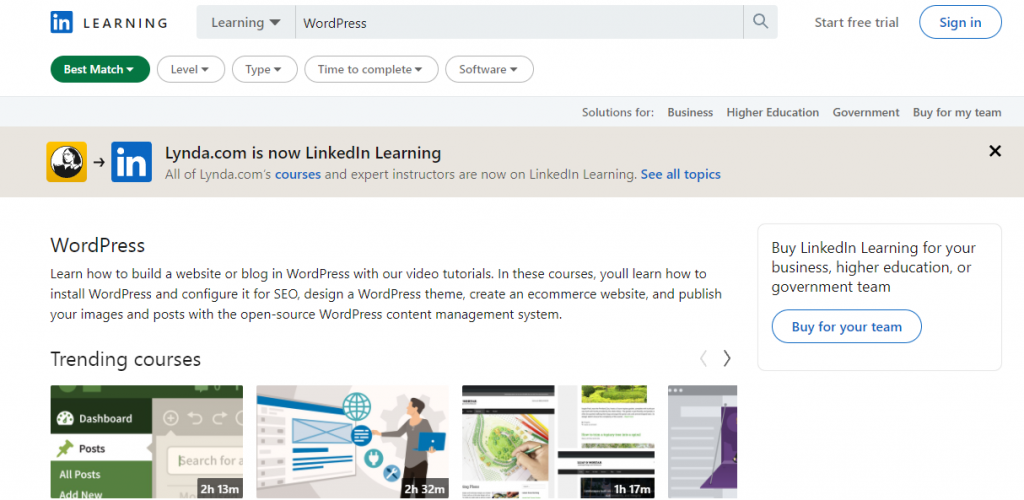 Lynda.com is an online courses website that recently became Linkedin Learning. One section is devoted to WordPress. There you can find a lot of videos tutorials where you can learn many things about WordPress. There are plenty of courses intended for beginners, and you can learn how to become a junior WordPress developer.
On the other hand, if you have already worked with WordPress, there are courses for learning how to become an advanced WordPress developer.
If you are interested in learning about designing WordPress themes or configuring your website for SEO, you are in the right place.
Price: You can join for the free first month. After that, monthly and annual billing is available.
4. WP101

If you want to learn about WordPress, you can start with the WP101 platform. There are 101 tutorials about WordPress where you can start with some basic things and then learn some advanced stuff.
All lessons contain brief text to find out what the video lesson is about and where you can apply that knowledge. Most of these tutorials are about 5 minutes long because too long tutorials can be confusing. People have no time to watch them or lose attention before the end. Also, everyone instead prefers short and straight-to-the-point videos.
After finishing the course, you will know to create many different WordPress websites and start with the WordPress developer career.
Price: Most of the lessons have a couple of free tutorials at the beginning, and to continue, you need to buy some of the pricing plans and choose from monthly and annual access.
Conclusion
Whatever if you are a beginner or you have some WordPress experience. Learning something new is always welcome, especially in the developers' world, where the changes are often.
These courses help you to come into this world or to improve your WordPress skills. The number of platforms that provides online WordPress course is extensive. Sometimes, the main problem could be choosing one of them.
However, that is why we make this list of the four best WordPress training course providers. In one place, you can read some basic features about them and try to find one that best satisfies your hunger for knowledge.