Because it appears and functions the same on all platforms, PDF has become the most commonly utilized document form in today's world. When it comes to altering the PDF, though, it requires you to have a dedicated PDF editor program.
Several PDF editors are available that allow you to change document text easily, add comments, bookmarks, and photos, and export files to the EPUB format. The quantity of PDF editor options, on the other hand, might be overwhelming, making it tough to pick one because there is a huge number of different editors out there.
We are here to assist you. In this post, we've compiled a list of our best PDF editors that will meet all of your requirements and that perhaps you should consider buying.
PDF Architect 8
Pdfforge features a one-of-a-kind purchasing approach for its PDF Architect product. You can download PDF Architect 8 for free or as part of one of three distinct packages. Each package includes a set of software modules that govern the editing capabilities of the software.
A Standard package includes editing and conversion modules. The Professional package contains all of the modules available in this application, such as forms, privacy, reviews, etc. Finally, the Pro+OCR package includes everything from the Professional package and the OCR Advanced module, which is a huge bonus.
Even the Pro+OCR package is reasonably priced, and the entire range of editing features makes it one of the most comprehensive, all-inclusive PDF editors available. The most recent version is PDF Architect 8, and premium memberships include text editing, conversion to different formats, comment availability, and password security.
PDF Extra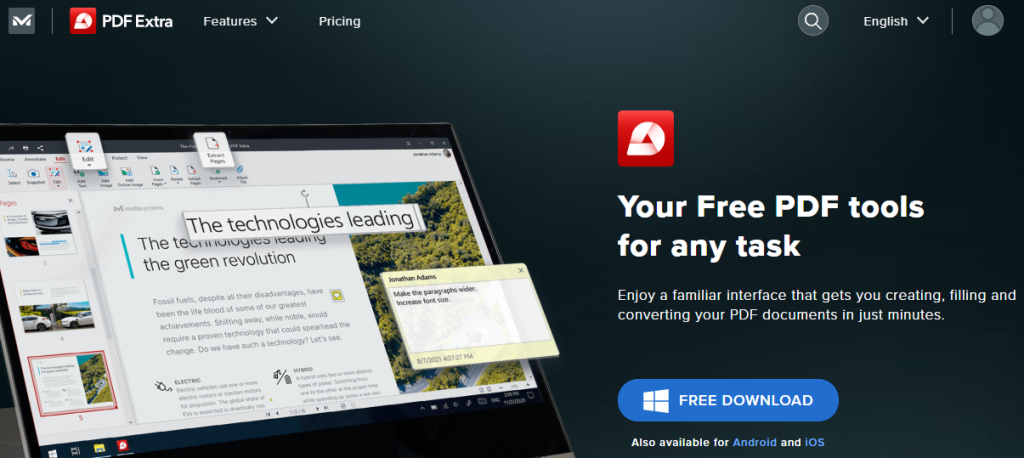 PDF files are more popular and helpful than ever in our developing multi-device, cross-platform world. They are compact, easy to share, and maintain the majority of the quality and style of a document.
The bad news is that one of PDF's most important features is also its most serious flaw: the files are intended to be read-only. Once you convert a file to PDF format, it is difficult to change it. That is why a knowledgeable PDF editor, such as PDF Extra, is required.
PDF Extra is a comprehensive PDF editor that allows you to effortlessly modify text, images, and convert files to many formats such as Excel and ePub. It's a terrific option for anyone who wants to design their PDFs.
Adobe Acrobat DC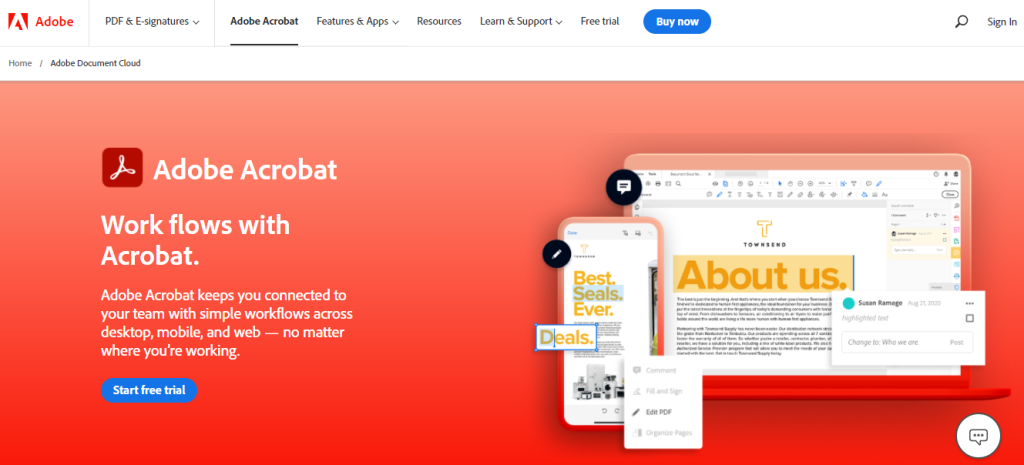 The DC term stands for Document Cloud, and it refers to the notion of saving PDFs in the cloud and collaborating on them with others. Because Adobe invented the PDF, it comes down to having the best PDF editing software. Of course, these days, Adobe would rather you pay a membership fee than buy the product directly.
Adobe Acrobat DC and Acrobat Pro DC are the two available versions. If you do not need a lot of editing tools, the standard version, Acrobat DC, is fine. While this costs $12.99 per month, the Pro version costs just $14.99 per month and includes support for mobile devices, Macs, and more powerful editing capabilities.
Nitro PDF Pro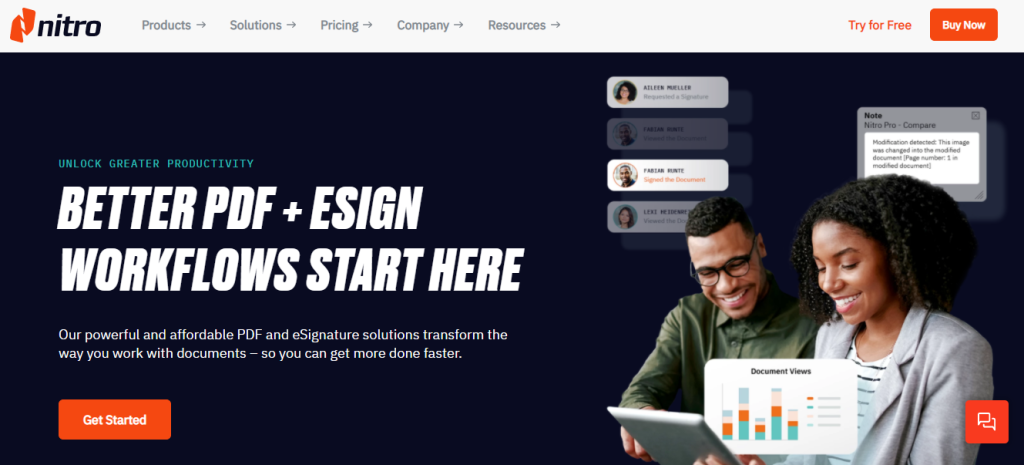 Nitro PDF Pro is a full-featured PDF editor that is highly user-friendly. Like its rivals, Nitro allows you to crate and edit PDFs, create different forms, use digital signatures, and even make comments. Optical character recognition also allows scanned paper documents to be converted into fully editable PDFs.
People also enjoy that it is well with other popular platforms like Google Drive, One Drive, and Microsoft 365.
When it comes to PDF editing, Nitro makes it simple to replace text, change the position of photographs, add forms, and more. You can change the order of elements in a document with simple drag and drop. The QuickSign shortcut also makes it simple to sign a PDF.
You may, as expected, enter and change Bates numbering and add passwords to encrypt critical PDFs.
The primary disadvantage is that Nitro Pro is not the cheapest option, but you get a slew of features, and it is ideal if you regularly work with PDFs. Nitro, thankfully, provides a two-week trial period during which you do not need to provide your credit card information, allowing you to determine if it is right for you without spending any money.