Education is one of the main segments of society. With the growth of the Internet, education became available to people worldwide. Online learning platforms offer formal and informal education for curious students who want to expand their knowledge and skills and troll deeper into different areas of science and crafts.
On the other side, these platforms are an excellent opportunity for educators who want to share their knowledge and teach students online. These platforms allow them to create their courses with different teaching methods, upload material, and always be available to students for questions and feedback.
If you are thinking about creating an online course, you might feel overwhelmed by the number of platforms available. First, you need to decide what course creator is the best for you, what gives you more audience, and the opportunity for growth and money.
This list shows some of the best online course creators with features and benefits. It should help you in your creating process and sharing knowledge. Don't forget: sharing is caring!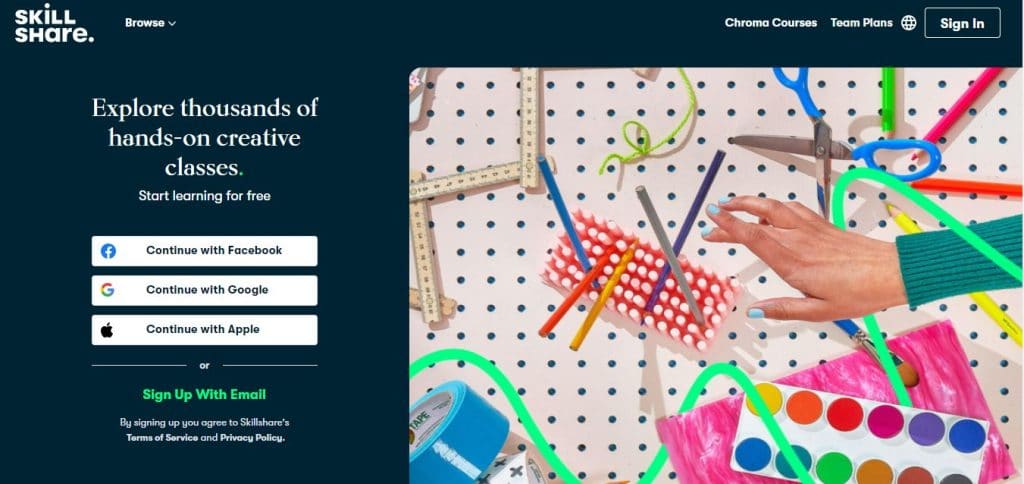 Skillshare is a trendy online learning platform among students and educators. Its significant number of users is the first advantage since it guarantees a potentially enormous audience from the beginning. Skillshare offers many course categories from different professional segments and is best suitable for creative workers, freelancers, and entrepreneurs. For that reason, Skillshare courses are project-based and focused on skills and how things are done.
Skillshare focuses on video production and video-based courses with straightforward tips and quick lessons. Creating a course is simple over a dashboard and following given guidelines. Also, a teacher can upload other different course materials and resources to make a compact and attractive course. Students can lead discussions and ask questions. Skillshare has a big loyal community and provides a fabulous marketplace. Yet, it has its established rules for course promotion, so a teacher is limited to brand its course. Another downside is a minimum number of enrolled students to start earning money.
With the growth of your class grows your income. However, once you get the first 25 students, you continuously earn money for that course without extra effort. Also, a teacher is paid based on the watched minutes by premium students. Finally, Skillshare is completely free for teachers regardless of the content and expertise.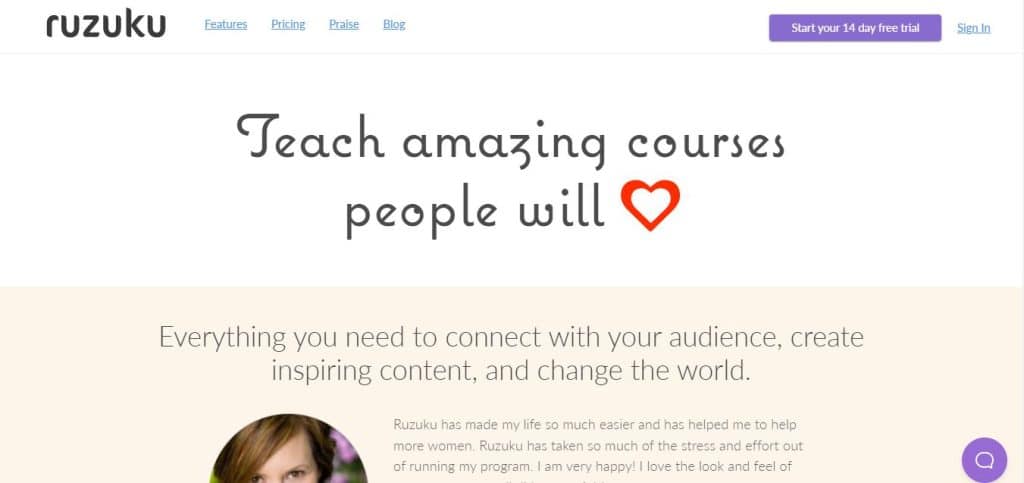 Ruzuku is one of the most straightforward course creators you can ask for. It lets you create courses in a short period, offering all-important developing features. The course material can be hosted on the Ruzuku site or linked to other locations. You, as a teacher, can upload different types of files for students and receive the same from them. Also, you can stream videos or make live sessions. The number of courses and students is unlimited. Every student can track their progress, discuss it with others, and ask for feedback. Communication is one of the most vital features of Ruzuku.
Furthermore, besides being an excellent platform for course material sharing, Ruzuku offers many design templates and fonts to make your course unique. It integrates with MailChimp and Stripe. Ruzuku has no free option but three plans and two paying options, monthly and annually.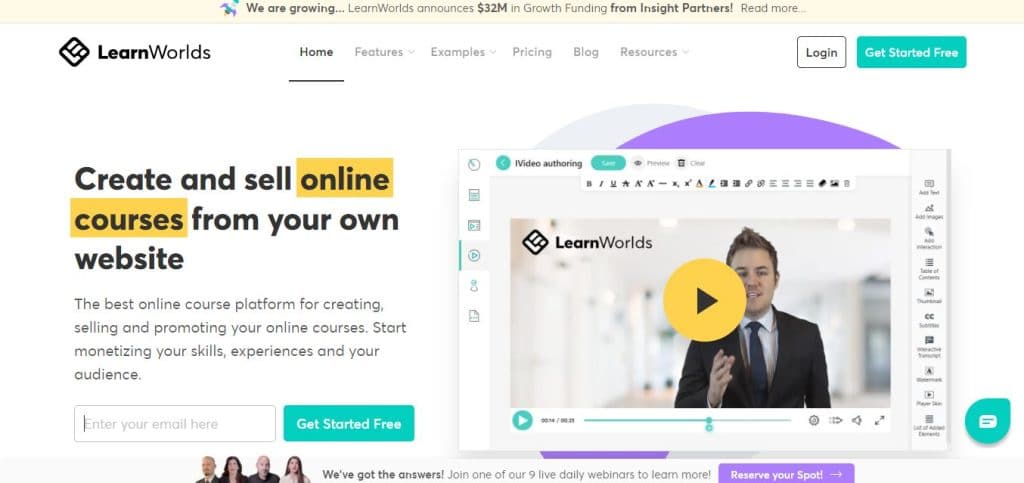 LearnWorlds is another online course platform for creating and selling attractive courses with interactive videos, detailed lessons, tests, etc. It has an uncomplicated course builder with hundreds of design templates to create personalized and unique classes. Also, teachers can include different addons (quizzes, pointers, etc.) to emphasize the importance of the video segments and get more multiple engagements.
Besides the videos, teachers can upload different course materials, tables, images, transcripts, and titles. In addition, they can track students' progress, their feedback and interaction, and their satisfaction with the course for future improvements. LearnWorlds has discussion boards for students' questions and networking.
LearnWorlds offers various promotion options and brand building. It has many pricing plans with different features, integrations, and compatibilities.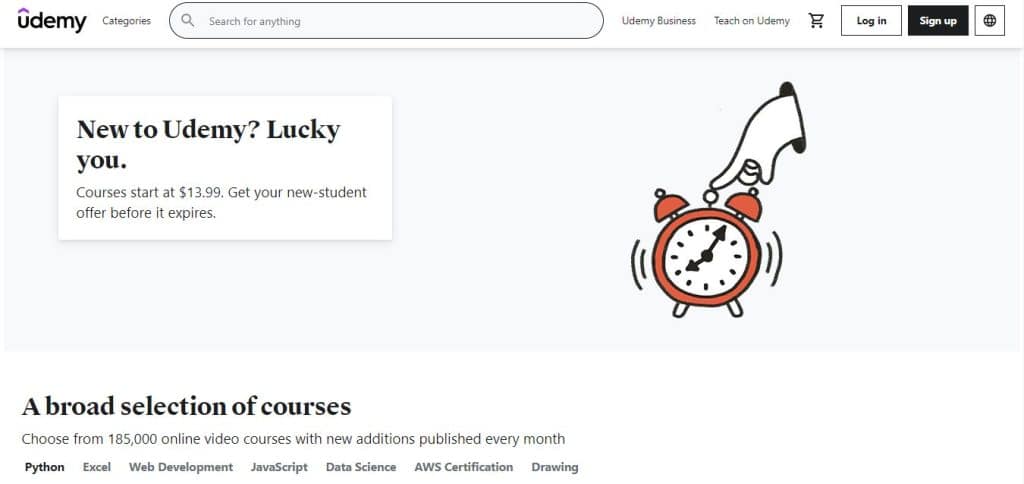 One of the most popular and prominent platforms for online learning is Udemy. It has the most extensive base of students and teachers. Its creation platform is simple and easily adjustable to your content for creating perfect courses. Every course can contain important segments, course material, exercises, tasks, and discussion boards.
Udemy has a big community good for more robust networking, reviews, and improvements. Also, it takes good care of teachers, vigorously promoting courses and linking them to the others from the same category.
Udemy is free for teachers, yet it has a specific policy about earnings. Even though the community is significant, the competition is also intense. Hence, it might be challenging to establish the brand and stand out.
Final thoughts
Acquiring knowledge and skills via the Internet is becoming more and more popular every day. If you are an educator and consider creating your course, this list offers platform options. When selecting your course creator, you need to consider teaching plans, the student experience, audience growth opportunities, pricing, and earnings. Do your research and quickly start creating your online course.