Today with open-source graphic editors, tools, and AI technology, all you need to do to create a logo for your business is pick the correct Logo Maker among offered ones. Evaluate them by easiness to use, logo editing, logo download options, and cost.
To make your choice even quicker and easier, we listed in this article some of the best logo makers in 2021. So, let's buckle up and start, shall we?
1. Canva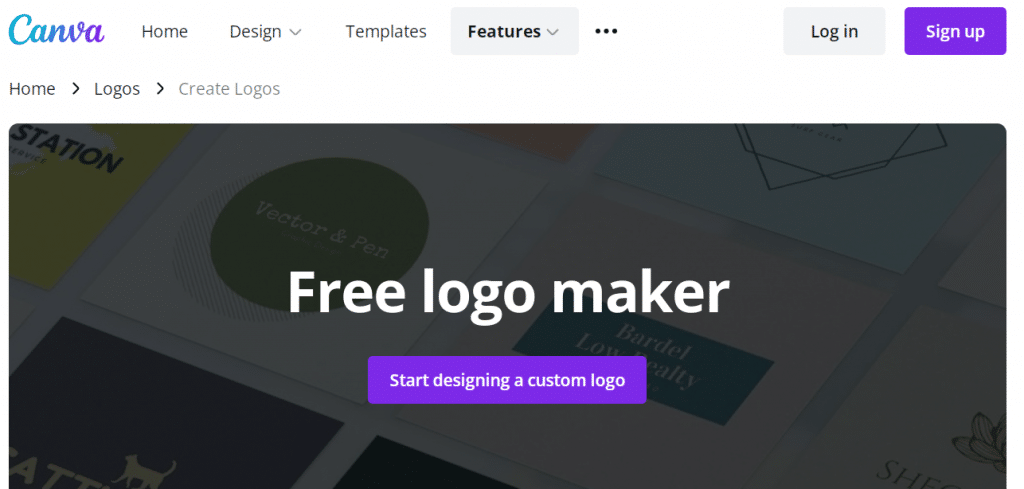 Canva logo maker doesn't require the user to have any design experience. Its approach in making a logo is in a simple drag and drop editor. Canva offers a vast library of customizable logo templates. These templates also cover many everyday needs and enterprises (sports, gaming, food, etc.).
After selecting a professional template, you can add your images and text and choose from a variety of color and font combinations. So, this logo will genuinely match your business. With a drag and drop editor, you can be even more creative.
There are various images, icons, stickers, and vectors you can search through and use a photo filter, image flip, or even animate for a unique result.
Further, once you are satisfied with your logo, you can save it as JPEG or PNG and print with Canva even as a PDF file.
Furthermore, while this is a free tool, you may upgrade to a membership plan for $12,99/month to get a transparent background, premium features, and unlimited downloads. You will get access to One-click photo Background Remover, One-click design Magic Resize, Create custom templates and upload your logos and fonts.
Designs with a translucent background will be available for download. You can also use Brand Kits and tailor the download quality (visual identity across logos, colors, and fonts).
2. Tailor Brands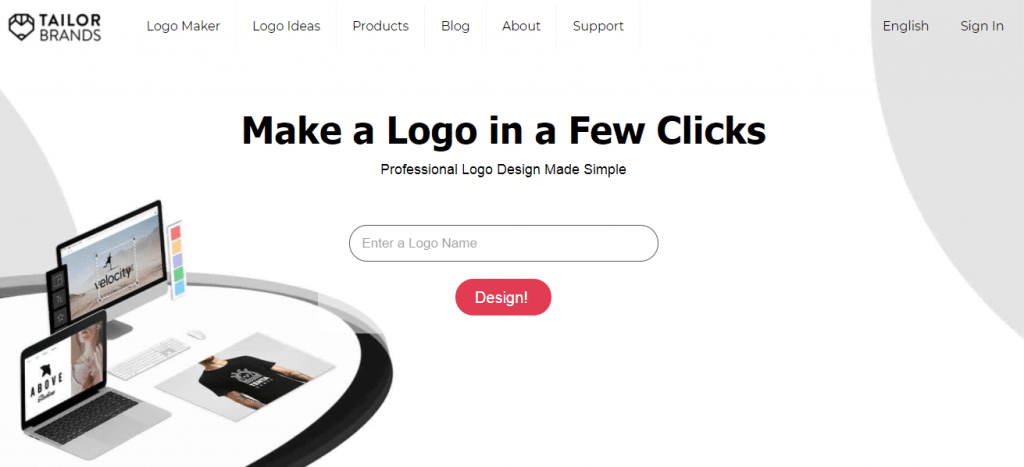 Tailor Brands Logo Maker uses AI technology that will create a logo that you need almost instantly. To make the logo, you only need to type in your company name and the industry you are in, and this logo maker will create your logo.
Tailor Brand will ask you to select a logo design style that you like in the first step. The design algorithm in Tailor Brand will suggest a few potential styles with matching icons, colors, and fonts.
Then you can revise created logo that Logo Maker provided and choose one that you favor. Even after that, you can change it to fit your vision. When you're happy with the outcome, you can get a free low-resolution version of your logo.
For high-resolution versions or Vector files, you will have to make a payment. However, their site declares to do it "only if you are 100% happy" and have your logo downloaded. Ownership rights with high-quality images can cost from $3,99 or up to $49,99 per month, with complete branding tools of Tailor Brands' scope.
3. Hatchful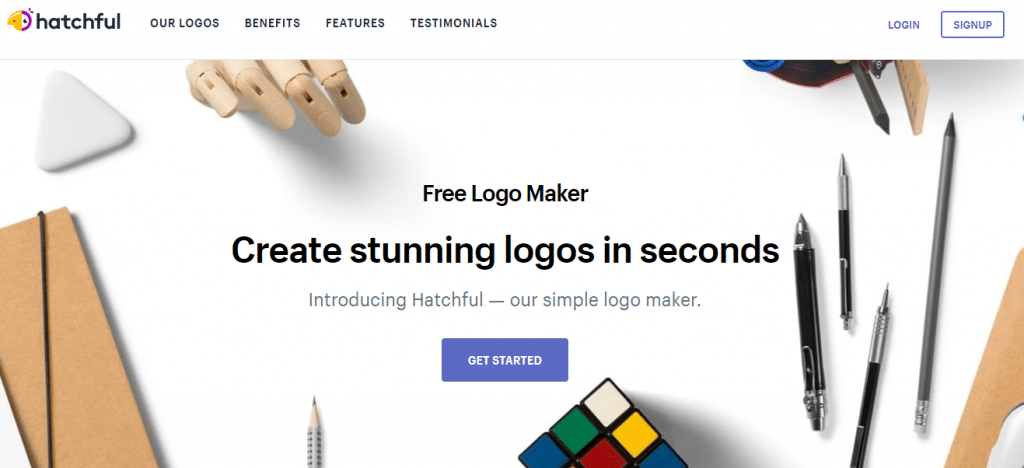 Hatchful is a simple and free logo maker. You don't need any graphic design knowledge to use this tool to build a logo. Hatchful's logo generator allows you to choose from hundreds of professionally designed logos to create a distinctive brand for your business.
It also has an easy-to-use design studio that will conveniently create a specific brand for you. This studio enables you to edit layouts, customize and choose colors, fonts and add icons as you like.
You can also have a logo made for you, especially if you name your industry and the brand's value. Further, you will be able to customize your logo per your specific industry needs.
Also, this is a free logo maker, but if you use some designs or concepts, you can download the final design only if you made a payment (if applicable), and they will send the link to your email.
4. Ucraft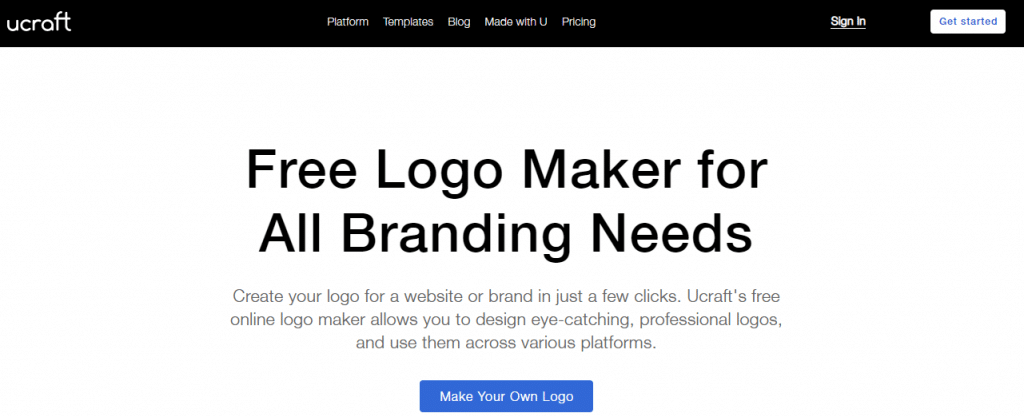 Ucraft's free online logo maker allows you to customize and edit chosen icon and download it as your business logo. You can get creative by adding the text element you tailor by changing the size, font, color, etc. With the "Preview" option, you will see how the logo looks and download it as PNG or SVG.
Ucraft Logo Maker is appropriate for both experienced designers and those with no prior design knowledge. Because it is an online logo builder, there is no need to install any program. You will be able to download an image that you created in PNG (600px wide file with auto height).
For a more excellent option, SVG file, you will pay $7. When purchasing an SVG file, you will get a scalable vector file in high resolution.
5. DesignEvo
DesignEvo offers 10K+ professional templates that you can customize. Use specific Keyword to search and find one that fit your needs. When developing a logo, you can choose from over 100 elegant fonts and over a million high-end icons.
You can completely alter any of the 10.000 logo templates to get the look you want for your logo. DesignEvo logo maker is simple to use, no need to download any software, and it is a time saver.
With the free version, you can download low-resolution JPG or PNG files (limited to 300px). With Basic ($24,99) or Plus ($49,99) one-time payment, you will get high-resolution files (up to 5000px), transparent PNG. You can edit and re-downloaded, Vector files (PDF, SVG) and lifetime support.
6. Placeit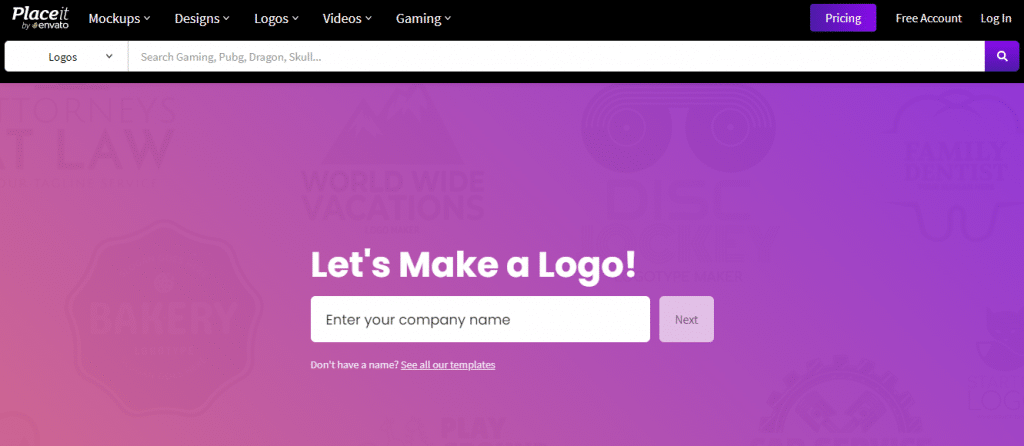 Placeit's Logo Maker is simple to use and offers over 8.000 professionally designed logo layouts to select from. You must type the name of your business or brand. You can also move items in a chosen color across the template you're changing with a click and drag.
If you create a Gaming or Sport logo, Placeit can animate it for you and deliver it in an MP4 file.
There are two ways of pricing that this logo maker offer:
Purchase a single logo (no watermark, high-resolution PNG, commercial usage allowed) for $39,95
With the unlimited subscription for $14,95/month or $89,69/year, you will get Unlimited logos, 4.600+ customizable templates, download your logo as PDF file in high-resolution suitable for any place you need to add it when printed.
7. LogoMaker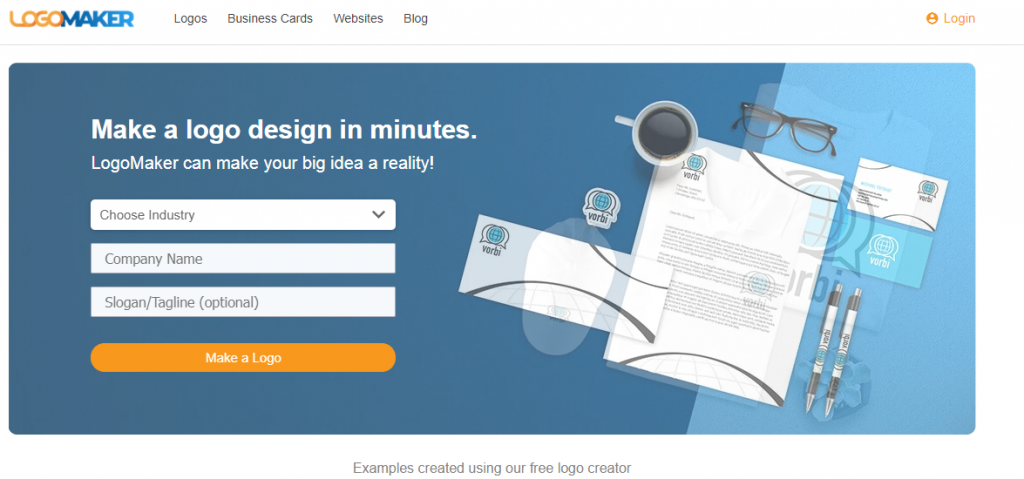 With LogoMaker, you will make a logo in just three steps: first, enter your company name, select a pre-designed logo template, and then edit it. Enter a tagline or phrase into the logo maker if desired. You can use the designed logo on business cards, new websites, or clothes, and it is free to do so.
For $40, you can buy and download your files from your account. Downloaded files include these file types: SVG, PNG, JPEG, PDF, and EPS, also include full-color variations, black and white, and transparent files. LogoMaker will optimize the size of files to fit different web or social media platforms for a simple upload of your logo.
Conclusion
When it comes to creating a logo, not that rare, we think of hiring professional designers. However, let's face it, they cost way too much, and often online logo makers can do just as much. There are some cases where going with top brand strategy agencies can be a smart choice if you need a professional logo and the whole brand package, but you are not sure you have enough skill to do it yourself. This could save you time and budget in the long run, if you make the right choice.
Lastly, it is vital to mention that online logo makers are also much more affordable. We hope that this article will help you to choose a logo maker that suits all your needs!