It's no surprise that an increasing number of people want to be able to do their jobs from the comfort of their phones. After all, we're all glued to our phones anyway, so why not make them functional?
If you're an iPhone or iPad user looking for an excellent website-building app, you've come to the right place. We'll review some of our top website-building app picks that you can download right now and see if any of the features offered by these apps pique your interest. We won't waste more of your time, so keep reading if you want to learn more!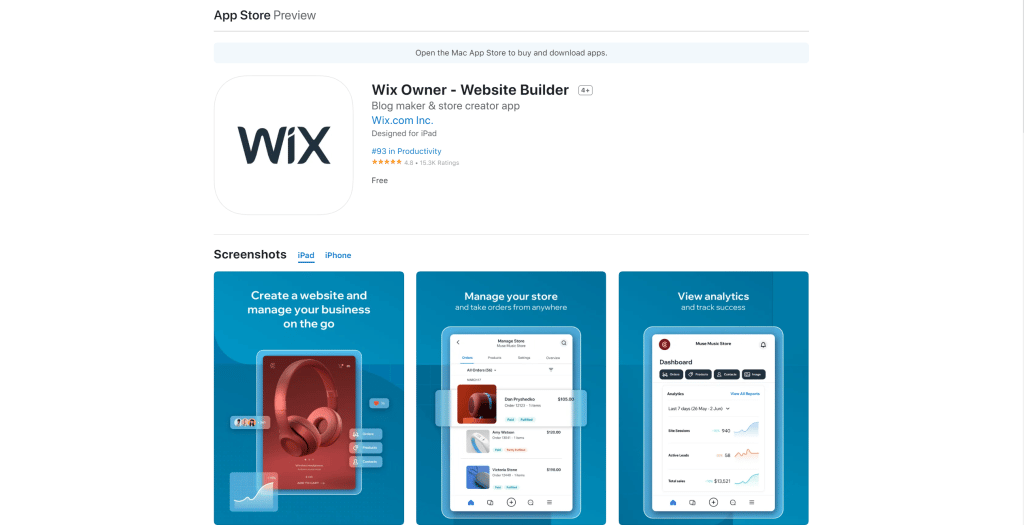 We're starting with Wix. You've probably heard it mentioned more than once, for a good reason. This website builder app allows you to create anything from blogs to online stores to event pages. The best part about this all-in-one website builder is that you don't need to know how to write a single line of code to create a visually appealing website that receives traffic.
Wix, which is fully customizable, provides you with infinite options for realizing your website vision. There are numerous templates, but Wix encourages you to experiment with them and tailor them to your specific needs.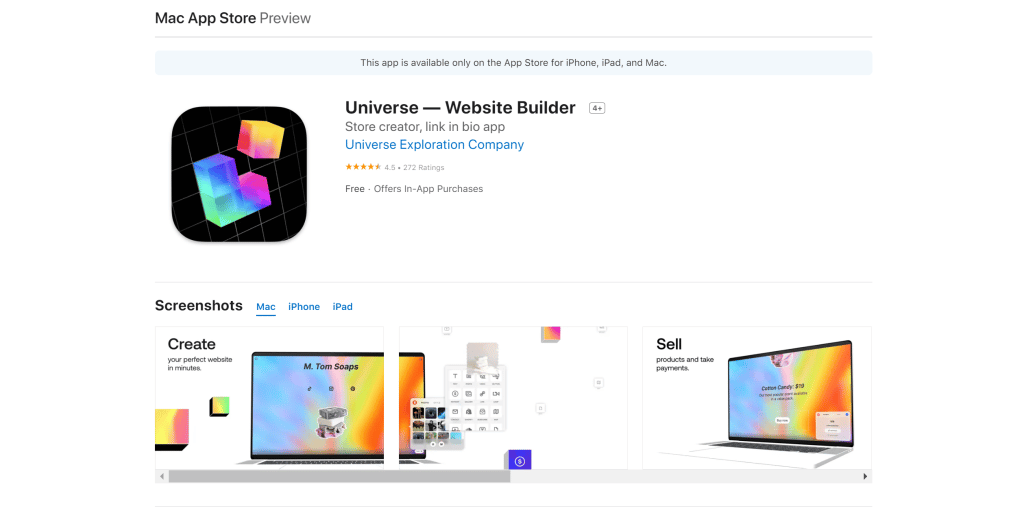 Although this powerful website builder is only available on iPads and iPhones, it consistently proves to be among the best website builders for iPhone users. The grid editor in Universe allows you to completely customize the appearance of your website without breaking a sweat. You can create a visually appealing product in minutes.
If you run an online store, Universe allows you to manage orders and inventory and sell downloadable content such as PDFs, streams, and more. However, once you upgrade to the pro version, this competing website builder unlocks several other features, like premium templates, discount code options for your store, custom Shopify integrations, and much more.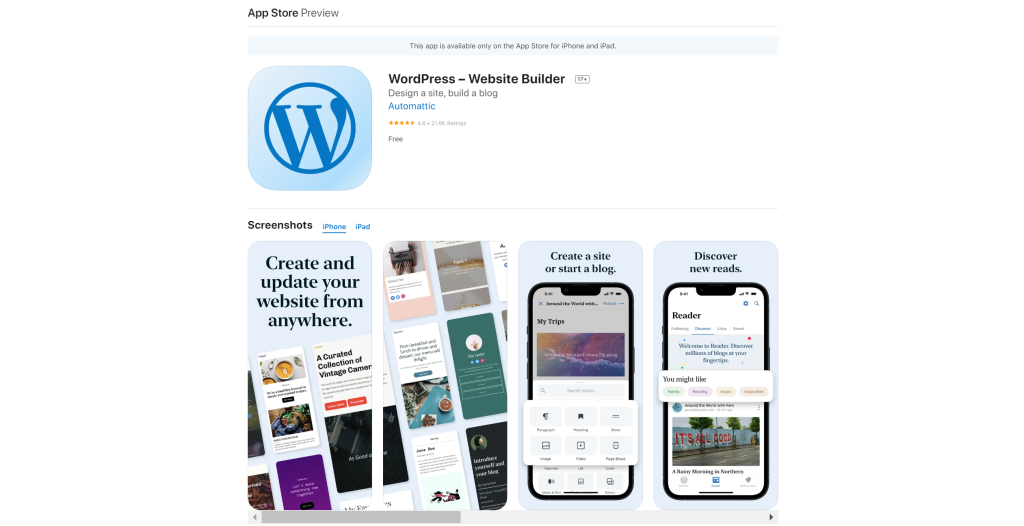 This list would be incomplete without mentioning WordPress. This famous website builder powers more than 40% of all websites on the internet. Allow that to sink in. There's a reason for that. WordPress allows anyone to create a free website and encourages users to contribute to its development.
Create, edit, and publish your content with a few taps on the screen, and view your statistics to see who visits and engages the most with your website. The app doesn't have the option to add any plugins, so if you want to expand it with one, you will need to log into the actual WordPress website.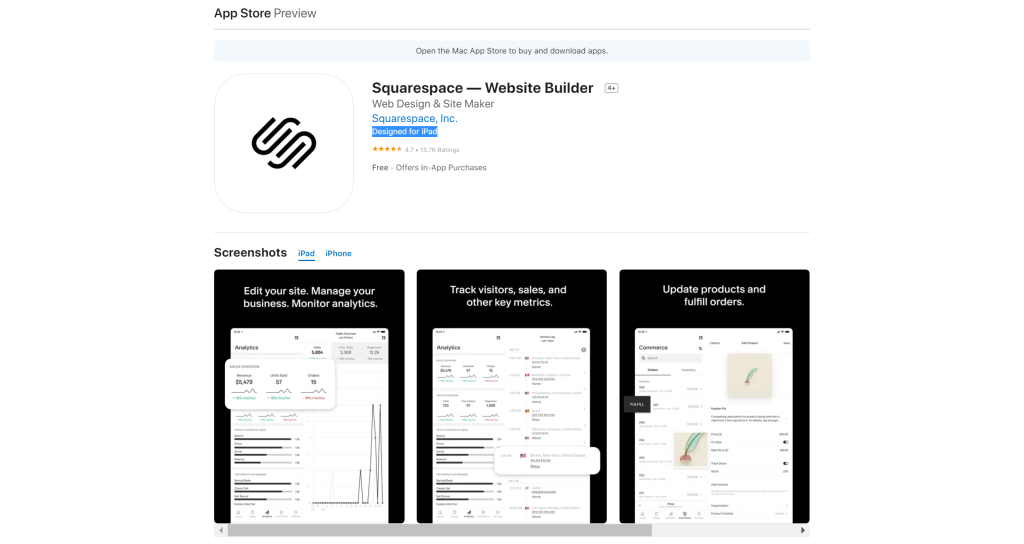 You're probably not surprised by this mention, as Squarespace appears everywhere these days. You can check out the iOS app for this brilliantly simple yet powerful website-building tool. Create, edit, and publish your content, which you can examine using the analytics Squarespace keeps track of.
The Squarespace app lets you fill out orders, manage inventory, and add and update product listings if you have an online store. Manage your email list, and design your email content by adding your brand, posts, images, and more within the app to optimize your email campaign strategy.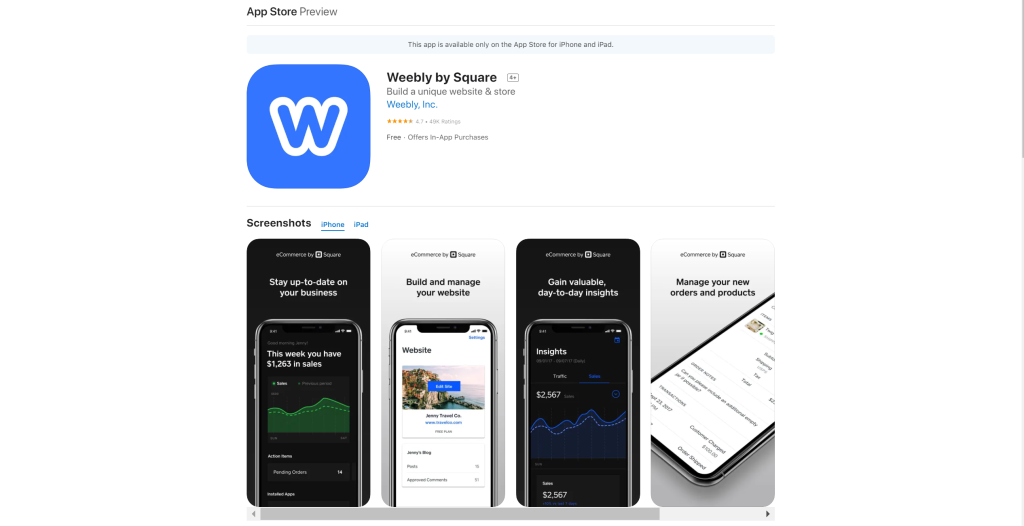 Weebly has your back if you're looking for a highly detailed iOS website builder that covers everything you need to run a successful and remarkably functional website. This feature-rich website builder allows you to create and customize your online store or blog using the app's drag-and-drop builder and a preset template if you don't want to spend time trying to be creative with it.
You can also use Weebly's simple dashboard to keep track of your site traffic, store orders, form entries, and more. Finally, what distinguishes Weebly from the competition is the ability to capture all necessary updates, even while offline.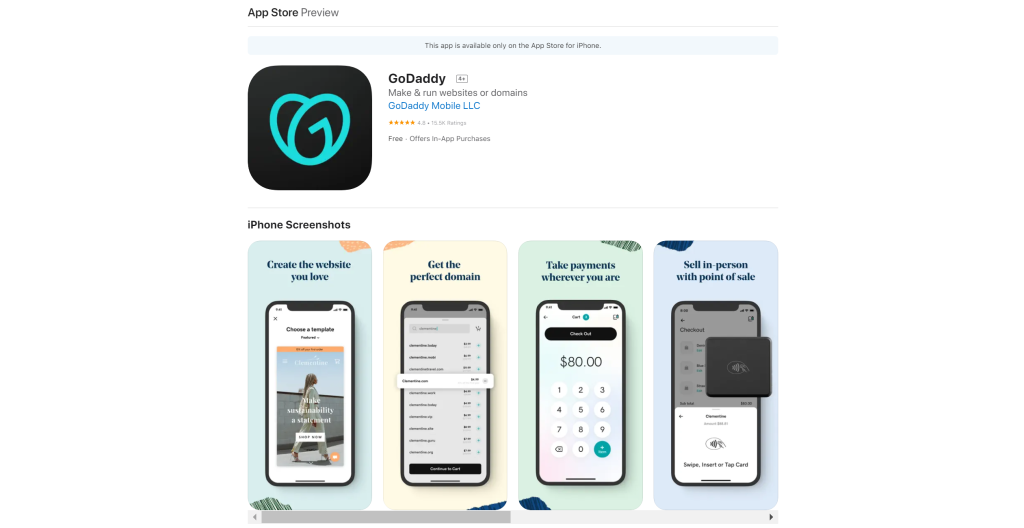 GoDaddy has recently received a lot of attention, which makes sense, given all of its features. This iPhone and iPad-compatible website builder offers a large selection of ready-made templates from which to create the website of your dreams. GoDaddy also lets you choose and own a domain name, and perhaps most importantly, it enables you to accept credit card payments securely.
You can manage and track your website's activities from a single location, process orders, and book appointments. Add blog posts and images, and then interact with your users by responding to their comments. This is an excellent pick for anyone looking to build and manage their website from the palm of their hand.
Conclusion
Each website builder we've highlighted today has its own strengths and weaknesses, so if you're looking to start building your website soon, we recommend you dig a little deeper and see which one best fits your needs. But one thing is sure: if you want your business to grow, you must have a website!